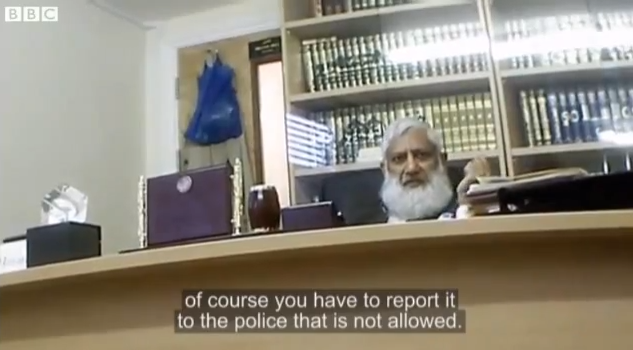 An Islamic council which mediates on Muslim marriages has defended itself after a member of staff was secretly filmed telling a woman complaining of domestic violence to only go to the police as a "last resort".
The Islamic Sharia Council, in Francis Road, Leyton, was investigated by the BBC's Panorama documentary series this week following allegations it was ruling on cases it had no legal authority to get involved in.
To investigate the claims the BBC sent an undercover reporter to the council to ask for advice, where she claimed her husband regularly hit her. She was encouraged to bring her husband to the Sharia Council for a meeting to discuss their marriage and told she should only go to police as a "last resort".
But in a statement Leyton Sharia Council said it took a "harsh" stance on domestic violence and said it never forced any woman who wanted a divorce to stay with their husband.
A spokesman said the secret recording was "underhand" and that conversations had been edited out of context.
He added: "It seems that Panorama had a pre-determined agenda and stereotype of how shariah councils operate, and they ensured that a round peg was forced to fit the square hole of this agenda. The council takes a harsh stance on domestic violence. Women who cite domestic abuse in their applications for divorce are advised strongly to report it to the police."
The council said the woman who took part in the secret filming had only come to the site on the pretext of wanting advice and that she told staff she did "not want to get her husband in trouble".
Waltham Forest Guardian, 25 April 2013
You can watch the Panorama documentary here.
The Islamic Sharia Council's full response to Panorama can be read here. It states:
"The ISC takes a harsh stance on domestic violence. Women who cite domestic abuse in their applications for divorce are advised strongly to report it to the police. In January and February of 2013, the ISC decided 33 cases of judicial divorce in which domestic abuse was a factor. In not a single case were the women advised to return to their husbands, or to tolerate the abuse, or to avoid the police. Divorce was granted in all these cases."
In the Panorama documentary Dr Suhaib Hasan of the ISC does tell the undercover reporter claiming to be the victim of violence from her husband that going to the police is the "last resort". However, he immediately adds: "If he becomes so aggressive, starts hitting you, punching you, of course you have to report it to the police. That is not allowed."
Not that this prevented the anti-sharia campaign One Law For All from issuing a press release claiming that the reporter "is told not to contact police when she asks … whether she should report the violence she has suffered at the hands of her husband".
I'm sure there are indeed some problems with sharia councils and how they deal with violence against women, just as there are with many other institutions in our society (as recent controversies that have arisen in the Socialist Workers Party and the National Union of Rail, Maritime and Transport Workers illustrate).
But it would be naive to suppose that the Panorama documentary was primarily interested in addressing that issue. It had another agenda entirely, and its findings should be treated with some scepticism to say the least.
The programme prominently featured Baroness Cox, a right-wing evangelical Christian who has a history of making inflammatory comments about Muslims. She was responsible for bringing the Dutch anti-Muslim racist Geert Wilders over to show his film Fitna at the House of Lords. Cox is a co-president, along with the likes of Daniel Pipes, of a hardline Zionist organisation called the Jerusalem Summit.
The Panorama report was presented by Jane Corbin, whose late husband, the former Tory MP John Maples, was president of Conservative Friends of Israel. Corbin was also the presenter of a 2010 Panorama report, Death in the Med, which was widely criticised for whitewashing Israeli state terrorism against the Gaza flotilla.
You would have to suspect that people like that are not so much concerned with defending women's rights as with marginalising and delegitimising supporters of the Palestinian cause – which perhaps explains why they are so keen to target Muslim organisations.
Update:  See John R Bowen, "Panorama's exposé of sharia councils didn't tell the full story", Guardian, 26 April 2013