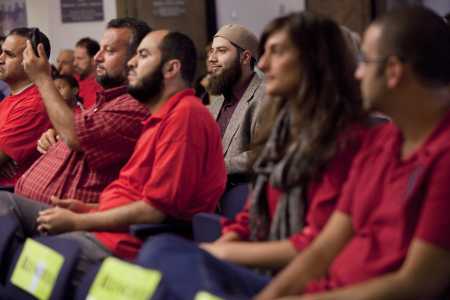 Community Unites with CAIR Against Hate at Hillsborough County School Board
Anti-Muslim Extremists Defeated at School Board
Diverse interfaith coalition stands united in solidarity with Muslim community
Dozens of diverse community members of many faiths attended yesterday's school board meeting to request the school board not to give in to censorship by banning advocacy groups at the request of anti-Muslim extremists.
The board agreed that there is no place for censorship in America and that the current policies which permit teachers to invite qualified speakers to schools do not need to be changed. Those pushing for censorship claim that their problem was only with CAIR, not Islam, however, their statements caught on video shows that they really wished to attack Islam and Muslims as a whole. Their attack on CAIR was simply because CAIR is the largest Muslim civil rights organization.
Nonetheless, dozens of community members came out to oppose the hate and show solidarity with the Muslim community.
Hassan Shibly Official Blog, 11 April 2012
For the background to the controversy see here, here and here.
Photo: Hassan Shibly (centre) at the school board meeting.
Below, an example of the propaganda issued by his opponents.