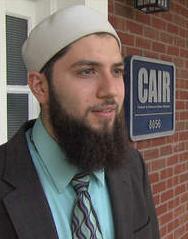 TAMPA — If members of the Hillsborough County School Board thought they had put controversy over a Muslim speaker behind them, they were wrong.
More than a dozen who oppose school appearances from the Council on American-Islamic Relations attended Tuesday's board meeting, some asking the board to call for a workshop and others displaying signs on the sidewalk outside that said, "Welcome to Tampastan."
The group included Kristina Gionet of the Pinellas Patriots, who said, "I guarantee that if CAIR comes across the bay, we will stop them at the Howard Frankland Bridge."
The issue arose late last year when conservative activist David Caton called attention to a visit to Steinbrenner High by Hassan Shibly, executive director of the Tampa-based Islamic group.
At the Jan. 24 board meeting, chairwoman Candy Olson scolded an angry crowd for criticizing a teacher trying to broaden horizons. On Tuesday, when she again rose to the defense of teachers, she was met with a loud chorus of boos.
Board member Stacy White, acknowledging many of the anti-CAIR speakers live in his east Hillsborough district, made a motion to schedule a workshop that would include presentations from CAIR and the Education Coalition, a group of conservative organizations that has mobilized over the issue.
He met resistance from member Doretha Edgecomb, who didn't want CAIR singled out. "It's Islam today," she said. "Tomorrow it may be the NAACP, or somebody else."
Olson, similarly, said she worried that teachers would be afraid to teach about the Holocaust, the Vietnam conflict or other topics that might appear controversial. "I've had some teachers say, 'I don't want to be the next target,' " she said.
While agreeing to broaden the topic of the workshop, White insisted that the public be allowed to speak at it. White's motion failed 5-2, with Susan Valdes siding with him.
Tampa Bay Times, 15 February 2012
See also "Hillsborough school board gets earful on CAIR", Tampa Tribune, 15 February 2012