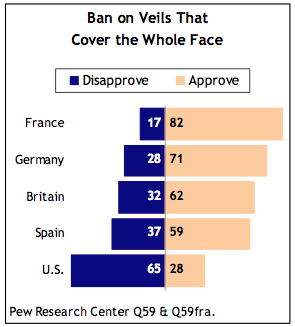 Days before French lawmakers are due to vote on a bill that would make it illegal for Muslim women to wear full veils in public, a US poll has found that a majority of Europeans back such a ban while Americans reject it.
The French overwhelmingly endorse a ban on Muslim face coverings, also known as the burqa or the niqab, as do majorities in Britain, Germany and Spain, a survey conducted by the Washington-based Pew Research Center's Global Attitudes Project found.
More than eight in 10 people in France said they would approve of a ban on Muslim women wearing full veils in public, including in schools, hospitals and government offices, the survey, conducted over three weeks in April and May, found. Just 17 percent of French people were opposed to a ban on the burqa.
Majorities in Germany (71 percent), Britain (62 percent) and Spain (59 percent) said they would support a burqa ban in their own countries. But in the United States, the opposite was true, with two-thirds of Americans saying they were against a ban on full veils in public.
---
Download the poll report (pdf) here.
The report finds that in Europe and the US "support for a ban on Muslim women wearing a full veil is more pronounced among those who are age 55 and older" and that "those on the right in France, Britain and Germany are more likely than those on the left to approve of a ban on women wearing the full Islamic veil in public places".