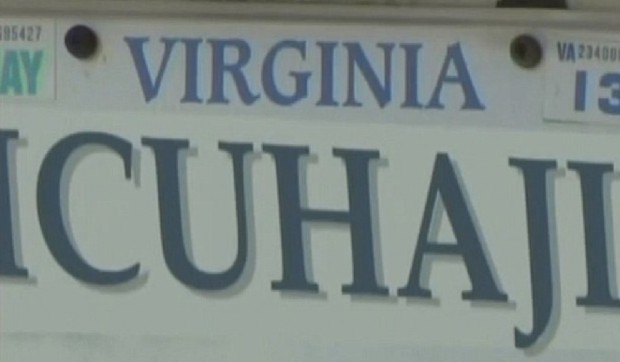 A Chesapeake man says the Department of Motor Vehicles is violating his right to free speech.
The DMV asked Army veteran Sean Bujno to return his vanity license plate, which displays the message "ICUHAJI." Many read the message as "I see you, Haji."
The dictionary defines "haji" as "one who has made a pilgrimage to Mecca." But the word can also be used as slang, often to describe people of Arab descent in a derogatory way. The popular website Urban Dictionary suggests "haji" is "offensive slang; disparaging term for Arabs, especially those of Islamic faith."
10 On Your Side ask Bujno's lawyer which meaning Bujno intended to use. The lawyer would not comment, other than to say it was not meant to be derogatory.
But, if you ask the DMV, there is no debate.
The agency has a hearings office where customers in Bujno's situation can voice arguments to keep their plates. The final decision rests with the commissioner. If the customer does not agree, it can be appealed in Circuit Court.
That's what Bujno did. In his appeal, he claims the DMV commissioner's decision violates the first amendment. He writes, "It creates an impermissible content based restriction of free speech."
Bujno's lawer told 10 On Your Side the real issue is not the plate, but the commissioner's abuse of power. He says a bumper sticker on Bujno's car unfairly factored into the DMV's decision. The bumper sticker reads "God Bless Our Troops… Especially Our Snipers."
When determining if a plate violates guidelines, the DMV considers all bumper stickers, decals, pictures or other materials that could influence how a person looking at the plate might interpret the message, according to its Web site.
As for Bujno, he has taken the plate off his car, at least for now.
See also Virginian-Pilot, 18 May 2013