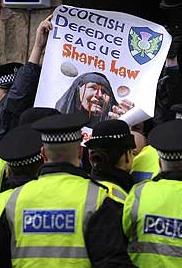 Muslim groups have called for a blanket ban on "hate-fuelled" far-right extremists demonstrating in Edinburgh. The Scottish Defence League, which claims to be against Islamic extremism, will hold a static rally in the Grassmarket next Saturday after a march was ruled out by the city council.
A dozen Muslim organisations joined forces to condemn last month's march application and today repeated their concerns ahead of the SDL's appeal against the council ruling, which will be heard on Monday. The groups, which include the Muslim Council of Scotland, Iqra Mosque and Community Centre and Edinburgh Central Mosque, said they feared the effect of the SDL being allowed in the city centre.
Zareen Islam, of the Muslim Women's Association of Edinburgh, said: "We're lucky we've never had violence. If racist abuse is heard in the streets, it gives people dispensation to do the same and we do hear of children receiving more abuse in the playground. Originally, we didn't want the SDL marching, but just their presence has an effect and we do not want a static demo. If they're allowed to demonstrate at all it is a bad thing – it's blatantly racist."
The letter states that at a previous demonstration, participants held placards which read "Mohammed was a Paedophile", "No Muslims and Islam in Scotland" and "P*** on a Muslim day".
Mazar Khan, spokesman for the Muslim Council of Britain, said: "These people are effectively football hooligans and they are jacked up on alcohol. The statements they come out with are totally obnoxious against Muslims and the things Muslims hold sacred. We're not against freedom of expression, but these demonstrations are an attempt to provoke Muslims into a violent reaction – we're not playing that game."
A strongly worded statement by the 12 Muslim groups was put before councillors last month as they debated whether the SDL should be allowed to march in the city next Saturday.
The statement read: "Previous hate-fuelled marches have heightened fears of violence in the Edinburgh Muslim community and our children have had to face increased racist and anti-Muslim taunts in the playground in the aftermath. Asian businesses and mosques felt less safe as did even non-Muslims of dark complexion and the Edinburgh Sikh temple."