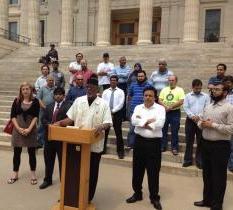 About 25 Muslims attended a rally Friday at the Statehouse urging Gov. Sam Brownback to veto a bill banning "foreign laws" that they say is a thinly veiled attack on Islam.
Faizan Syed, executive director of the Council on American-Islamic Relations' St. Louis branch, said similar "American Laws for American Courts" proposals have been floated in almost half of the 50 states this year. He said proponents have made them purposely vague to avoid running afoul of the Constitution like a 2010 Oklahoma law that specifically targeted Islamic law, or sharia.
"We know this was targeted against Islam because of the Oklahoma law that was struck down," Syed said. "They just changed the wording."
The Kansas bill, House Substitute for Senate Bill 79, voids any state court decision that is based on a foreign or religious law that doesn't comport with the state or U.S. Constitution. It passed the House 120-0 on May 7 and passed the Senate 33-3 on what was scheduled to be the last day of the session.
Some proponents have said it has nothing to do with Islam, but is merely meant to provide an extra layer of protection for Kansans' constitutional rights. But from the beginning, a perceived threat of sharia creeping into Kansas communities has shadowed the debate.
When it first came to the House floor, Rep. Jan Pauls, D-Hutchinson, urged her colleagues to vote for it by saying it was critically important to address sharia. Rep. Peggy Mast, R-Emporia, who lobbied heavily to ensure the bill got a vote in the Senate, also has pointed to sharia as a growing threat. When the bill came to the Senate floor, Sen. Susan Wagle, R-Wichita, called it a women's rights issue, noting "they stone women to death in countries that have sharia law."
"That's not sharia law," Omar Hazim, imam of the Islamic Center of Topeka, said after Friday's rally. "People need to try to gain some knowledge before they make decisions that are going to affect a lot of people."
Hazim, who said his organization has 250 to 300 members, spoke at Friday's rally. He said that sharia refers to much more than a set of laws in Islam. Rather, he said it is a code of living that includes prayer, fasting, charitable giving, pilgrimage and service.
Hazim said the Koran states sharia shouldn't be forced on anyone. He also said he was disappointed that neither he nor Washburn University law professor Liaquat Ali Khan were invited to speak to legislators about the bill.
Syed said women in America are already protected by the Constitution. "It's not about Muslim women," he said. "That's just an excuse they use to really push this Islamophobic agenda."