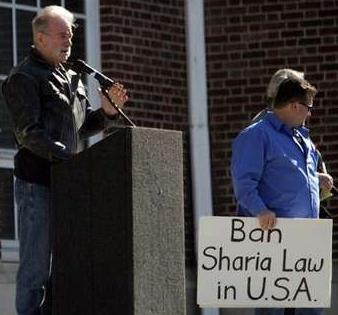 Amid a heavy police presence, Pastor Terry Jones delivered a rambling speech today from the steps of Dearborn City Hall that lashed out at Islam and President Barack Obama, but many of his words were drowned out by the voices of a swarm of protesters.
Jones repeatedly provoked and insulted the counter protesters. At one point, he ignored police requests by ambling down to the front of the police barricades while taunting his opponents. Angered, some of those protesters stormed past police barricades and marched across Michigan Ave as they hurled bottles and shoes at Jones' supporters in front of them. One woman spit in Jones' direction.
The young crowd then pushed down a security fence that separated them from Jones' supporters as they surged forward, their faces tight with anger. For a moment, it appeared a major clash was about to break out. But Arab-American leaders and police pushed back the angry group of youngsters as dozens of police in full riot gear and masks marched out in single file out to separate the two sides. At least two were arrested.
Dearborn Mayor John O'Reilly said afterward that Jones was responsible for creating the disturbance by ignoring city requests not to approach the barricade. "He refused to comply," O'Reilly said. "He was asked, please don't come to the barricade. He just ignored us…. His goal was to start trouble… That shows his character."
O'Reilly said Jones was a trouble maker promoting fear among Americans during a time of economic anxiety. His goal, the mayor said, was to make money for his Florida church, which has hardly any members left. "He's got an online business of creating fear and hatred," he said.
Jones started his talk by repeating his claim that parts of America, like Dearborn, are under sharia, or Islamic law. "We will not allow sharia to be instituted" in America, said Jones during his talk. His assistant, Pastor Wayne Sapp – who burned a Quran last month in Florida on Jones' orders – said during his talk: "It's time for Christians to take to the streets."
The crowd grew as they spoke, with more Arab-Americans and Muslims appearing as the rally took place. Some waved shoes, an Arab symbol of disrespect. Others held up Qurans. American, Palestinians, and Lebanese flags were also waved. More than 600 anti-Jones protesters appeared to assemble, despite repeated pleas by Arab-American and Muslim leaders to not show up.
During his talk, demonstrators opposing Jones repeatedly chanted "Go home Terry Jones" and "U-S-A! U-S-A!" They waved a USA flag during Jones speech.
In his talk, Jones repeated what he has been saying for weeks. But it was more pointed, and more insulting, say local Muslims. At one point, Jones said that Islamic doctrine promotes lying. As Jones spoke, Sapp held up a sign that read "Ban Sharia Law in USA"
About 100 supporters of Jones listened to his talk. Some said they were from New York City.
Jones also launched an attack on Obama, questioning the President's speech in Cairo where said Islam was part of the American story. "Islam has never been part of the American story," Jones said.