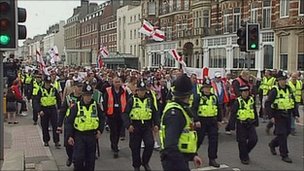 The English Defence League's march through Weymouth yesterday in protest against the supposed "entrapment of the youth of Weymouth by extremist Muslims" turned out to be a bit of a damp squib. Given that Muslims comprise 0.3% of the population of Weymouth, and the EDL would be hard pressed to find an adherent of mainstream Islam in the town never mind an "Islamic extremist", perhaps the organisers should be thankful anyone turned up at all.
No doubt frustrated by the absence of a substantial Muslim community to intimidate, the EDL called off their street protest after only ten minutes and returned to the main business of the day – getting tanked up at Moby Dick's pub.
The demonstration had been organised by one Tim Ablitt, who you may recall was arrested last year on suspicion of involvement in an alleged plot to bomb Bournemouth mosque. EDL co-leader Kevin Carroll was due to speak alongside Ablitt at the protest, but neither Carroll nor any other representative of the national leadership could be bothered to make the journey to Dorset.
Back at the pub, one participant announced his dissatisfaction: "Not happy no leadership showed. We travelled 262 miles to be here. Abt 200-250 EDL showed but where where [sic] leadership?"
Update:  See "EDL march in Weymouth: Hundreds show their feelings against 'fascists'", Dorset Echo, 2 May 2011