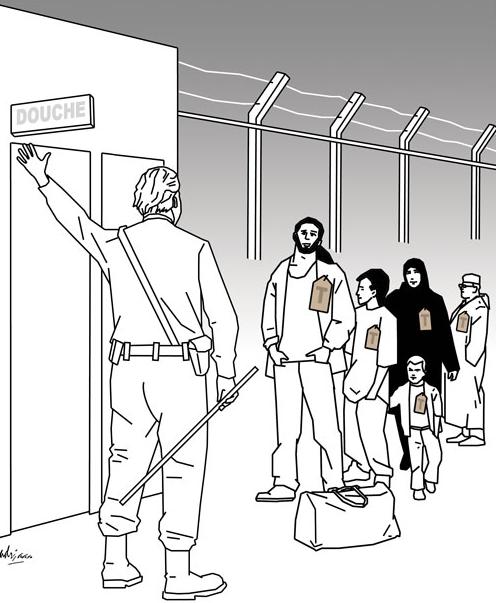 When it concerns his own right and that of his fellow right-wing bigots to slander Islam and incite hatred against Muslims, Geert Wilders presents himself as a staunch defender of free speech. Indeed, he has won international support – including financial backing from the likes of Daniel Pipes – on the basis of that claim. When it's a matter of his opponents' right to criticise him, however, Wilders' commitment to freedom of expression suddenly evaporates.
Earlier this year we saw him bully a Dutch public broadcaster into removing a cartoon (see picture) that he found offensive, because it drew a parallel between Wilders and the Nazis. And now Radio Netherlands Worldwide reports on two further examples of the PVV's critics being suppressed in deference to Wilders.
One case involves the historian Thomas von der Dunk, who was invited to deliver an annual address named after the Dutch resistance hero Willem Arondeus that is intended to underline the relevance of World War Two to the present day. Von der Donk planned to criticise Wilders' party, the PVV, in the following terms:
"Look at the PVV proposal to bar Muslim women from wearing headscarves on buses. We're not talking about yarmulkes or dog collars here. It's a clear attempt to limit the forms of expression of one religion, contrary to the constitutional principle of equality of religions. There are numerous examples of Muslims being portrayed as some kind of fifth column of a 'global caliphate'. It's reminiscent of the way in which Jews were smeared in the 1930s, as a fifth column for a Jewish world government."
But Von der Dunk's speech has been cancelled by the organisers, on the basis that it was "too politically coloured".
A punk song has been also been banned from being played at a festival celebrating the liberation of the Netherlands after WW2, because its chorus is aimed at Wilders:
"Mussolini van de Lage Landen/Van mij mogen ze jouwe uitspraken ook verbranden/Als jij nou een snor en een scheiding nam/Dan zou ik jou ook kunnen vergelijken met Mein Kampf."
(Mussolini of the Low Countries/I think they should burn your sayings too/If you had a moustache and a parting/I could compare you with Mein Kampf too.)
Von der Dunk believes the real reason for cancelling his address is that the organisers gave in to "intimidation" – the PVV had threatened to turn up in large numbers and disrupt the meeting. As Von der Dunk points out, Wilders himself repeatedly compares the Qur'an to Mein Kampf and talks about "Islamofascism": "He can't then turn round and complain when someone criticises him back."