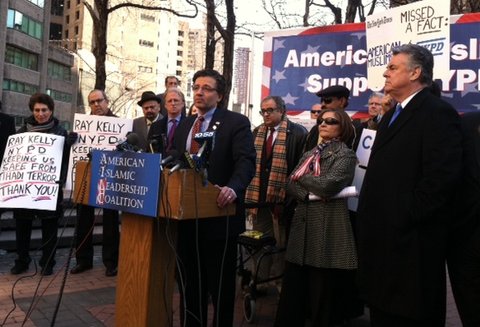 Muslim groups gathered in support of the New York Police Department in Manhattan this morning following revelations the NYPD set up surveillance of Muslim communities in two New Jersey cities and on 16 college campuses.
Dr. M. Zuhdi Jasser, the president of the American Islamic Foundation, on Monday thanked the NYPD for monitoring extremists as about three dozen supporters cheered and clapped. Jasser, who narrated the documentary "The Third Jihad," which warns against the dangers of radical Islam, said the NYPD is doing work that Muslims should be doing.
In an interview following the rally, Jasser said he saw nothing wrong with the NYPD's intelligence-gathering program as long as officers collected information in public. He said that if police become familiar with people and businesses in a community, "maybe they can stop someone before they strap a bomb to their chest."
Similar police surveillance programs should be created in other major cities, such as Los Angeles, Jasser said. He labeled as "ridiculous" a statement by Garry McCarthy, former Newark police director, that he would not permit an NYPD-style surveillance campaign in Chicago, where he leads the police force.
The Associated Press adds: "U.S. Rep. Peter King, R-N.Y., said at the rally that the department deserves a medal for its work. He lambasted coverage by the AP and The New York Times as biased and said the news outlets were 'disgracing themselves'. He said the department should be a model for other departments around the country."
See also City Room, 5 March 2012
Given that New York police commissioner Ray Kelly has describedThe Third Jihad as "inflammatory" and apologised to the Muslim community for appearing in and screening it, while Mayor Bloomberg has condemned the NYPD for demonstrating "terrible judgment" over the film, they are unlikely to welcome the support of Zuhdi Jasser and other equally unrepresentative "Muslim leaders".
Update:  See Phyllis Chesler's blog at Pajamas Media, which hails Zuhdi Jasser as "The anti-Islamist Muslim voice".