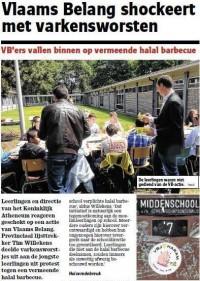 The Belgian press has reported that three Vlaams Belang politicians staged a protest at a school in Schoten, where many of the students are Muslims, because it had organised a barbecue that included halal meat.
The protestors climbed over the wall into the school grounds and, according to deputy head Jacques Gits, "intimidated the children and pushed pork sausages down their throats". One of the students, who were aged between 12 and 14, added: "They said that halal meat is not real food and that our stomachs needed filling."
Vlaams Belang claim that they were responding to objections by parents to the "halal barbecue", although the school itself says that the only complaint it received was one anonymous phone call. School head Ilse De Bast explained: "This week was about other cultures and their customs. Every child was free to bring food from home for their classmates to taste. There was halal meat, but also other food."
In reply to criticisms, VB leader Filip Dewinter said that the protest "was meant to be funny". He added: "It would be better if schools stopped exposing children to such multicultural activities."
It appears that the story was broken by the Anti-Fascist Front who also provide a summary of press coverage.