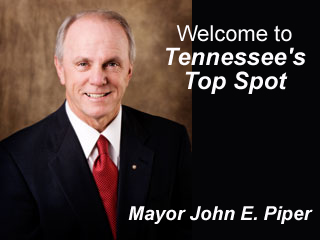 Clarksville Mayor Johnny Piper forwarded an e-mail this morning that urges "patriotic Americans" to protest a U.S. Postal Service stamp commemorating two Islamic holidays.
According to a copy of the e-mail obtained by The Leaf-Chronicle, Piper forwarded the e-mail, which had been forwarded several times previously, without comment. Piper sent the e-mail to every City Council member, every department head, and numerous other city employees, friends and family members.
The e-mail falsely claims that the stamp is new, and its creation was ordered by President Barack Obama. In fact, the stamp was first issued in 2001, and was reissued in 2002, 2006, 2007 and 2008.
The e-mail asks readers to remember a series of what it calls "Muslim" terrorist attacks. For example, "Remember the MUSLIM bombing of the World Trade Center in 1993!" After listing a series of similar comments, the e-mail concludes, "To use this stamp would be a slap in the face to all those AMERICANS who died at the hands of those whom this stamp honors."
Piper today defended forwarding the e-mail, saying he sent it on as "information," for others to read and make their own conclusions about.