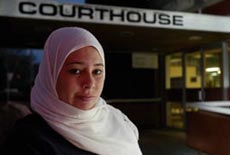 Yasmeen Ali was attempting to enter Hastings District Court on Tuesday to support her brother Carlos Manuel Brooking, 22, who was appearing for sentencing on a charge of assault.
Ms Ali, a 25-year-old mother-of-three, was asked by a court attendant to remove her headscarf on entering the courthouse. She refused and took a seat. When she tried to re-enter court after the morning break, she was blocked. She complained to the court manager, who told her she could not enter wearing a headscarf because the judge, Geoff Rea, had forbidden it.
Her brother had earlier been put into custody after refusing to remove a hat while sitting in court awaiting his sentencing, despite being requested to do so by Judge Rea.
Race Relations Commissioner Joris de Bres today called for reassurance for the Muslim community. "I can't imagine a nun being told to remove such attire, and the same should apply to others who wear head coverings for religious reasons, such as Muslims, Sikhs and Jews," he said.
Judicial communications adviser Neil Billington said the incident was the result of Judge Rea's "mistaken  assumption of what was occurring in the courtroom".
"The judge required the removal of the woman because of her association with [her brother] who had just been removed. The judge had mistakenly assumed that her headgear was a demonstration of protest at the court."
Dominion Post, 3 September 2009
See also 3News, 3 September 2009