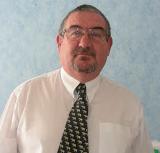 The UK Independence party's local election candidate in Rotherham has had close links to the British National party and thinks there are too many Muslims in Britain – but having been alerted to his views and background, the party's central command refused to condemn his remarks.
Caven Vines, 62, used to work closely with the BNP's Rotherham organiser, Marlene Guest, in a campaign group called Council Watch. He has never been a BNP member but spent 2004-2006 as an independent councillor for the Rotherham West ward and is well known locally for his rightwing views.
Vines is standing in the Rawmarsh ward in a byelection triggered by the resignation of Labour's Shaun Wright, who became South Yorkshire's police and crime commissioner last year, despite his BNP connections. Wright's wife, Lisa, is hoping to keep the seat in the family and is standing for Labour.
Vines, a father of three, kept a less-than-literate blog when campaigning for re-election to the council in 2009. On one post in March that year he mocked "our very own Muslim Lord Amed" – a misspelled reference to Pakistan-born peer Nazir Ahmed, Lord Ahmed of Rotherham since 1998, who had recently received a light jail sentence for a fatal car accident. "If are a Muslim in Britain you can almost do what you want with the good old Labour Governments blessing," he wrote.
Vines also complained that: "Muslims go to war warring [sic] the same cloths as ordinary people who they hide behind they cover their faces, they hide behind women and children they set up rocket launches in school yards they use children to push wheel barrows into crowds and soldiers then detonate it killing innocent people SO WHO ARE THE COWARDS.
"Its about time the Government and the Police stopped pandering to these so called British Muslims and other foreign nationals."
Contacted by the Guardian on Tuesday, Vines stood by the blog. The Rotherham-born engineer said too many Muslims had been allowed into Britain. "When they get here, suddenly – you don't have to be born in this country – you can come here, live here for a while and stand as MPs and that sort of thing. We are giving 'em power which they shouldn't have. We couldn't go to Pakistan and stand as an MP. All I'm saying is we've opened ourselves up to this."
However, when the Guardian asked Nigel Farage's spokesman whether Ukip endorsed Vines's views on Muslims, he said: "I have been instructed not to comment."
Marlene Guest, a pensioner who perennially stands for the BNP in Rotherham, founded local campaigning group Council Watch with Vines over 10 years ago. The pair have now fallen out, and Guest said Vines is "very rightwing, just as rightwing as us".
But Vines insisted his views were not identical to the BNP's. "They say everybody should be scooped up and sent back. I don't say that at all. Basically, I say if you want to come and live in this country, fine. But you follow our rules. We've got us own rules for us own British culture. They want their own laws. I mean they are wanting this sharia law, aren't they?"