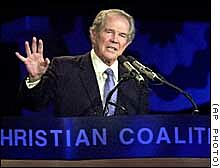 Outspoken US Christian evangelical broadcaster Pat Robertson has accused Muslims of planning world domination, and said some were "satanic".
On his live television programme, The 700 Club, he said radical Islamists were inspired by "demonic power".
He went on to say that "Islam is not a religion of peace", and "the goal of Islam, ladies and gentlemen whether you like it or not, is world domination".