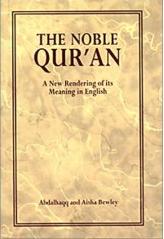 The latest cause célèbre adopted by right-wing bloggers in their campaign to defend free speech (i.e. the right to vilify Muslims) is the Sunday Telegraph's decision to remove from its website an interview by Alasdair Palmer with Patrick Sookhdeo, head of the Christian evangelical organisation the Barnabas Fund, which originally appeared in the 19 February issue of the paper. The Telegraph has explained that this was for "legal reasons".
The "legal reasons" undoubtedly refer to Sookhdeo's attack on the book The Noble Qur'an: A New Rendering of its Meaning in English. "It calls for the killing of Jews and Christians", Palmer's article quoted Sookhdeo as saying, "and it sets out a strategy for killing the infidels and for warfare against them. The Government has done nothing whatever to interfere with the sale of that book. Why not? Government ministers have promised to punish religious hatred, to criminalise the glorification of terrorism, yet they do nothing about this book, which blatantly does both."
The book named by Sookhdeo is a highly-regarded translation of the Qur'an by Abdalhaqq and Aisha Bewley. His attack, which provoked an international outcry, was plainly libellous, and it would appear that the Bewleys asked for, and received, a retraction by the Telegraph. (For details, see here, here and here.)
For the Islamophobic inhabitants of the blogosphere, the removal of the article from the Telegraph site is just another example of western capitulation to the "Islamic threat". Western Resistance, the Infidel Bloggers Alliance and Exit Zero are among the blogs that have reprinted the Sookhdeo interview, all in the interests of freedom of expression, you understand. Hopefully the Bewleys will sue the lot of them.
The Infidel Bloggers site goes so far as to claim that, by publicising and denouncing the Sookhdeo interview, Islamophobia Watch was responsible for the sacking of former Sunday Telegraph editor Sarah Sands. Publishing Alasdair Palmer's article without checking the facts may have been an act of incompetence on Sands' part, but we doubt this was the cause of her dismissal. A rather more pressing reason was the continuing decline in the paper's circulation that accompanied her nine-month period as editor.