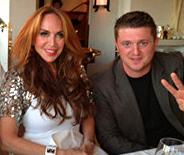 The English Defence League may have hit the skids in the UK, but that hasn't prevented the EDL leadership from still being feted by their fellow anti-Muslim racists in the "international counter-jihad movement".
Last week EDL leader Stephen Lennon ("Tommy Robinson") and his sidekick Kevin Carroll were in New York to attend the grandly titled International Freedom Defense Congress organised by mad Pamela Geller's Stop Islamization of Nations to mark the eleventh anniversary of 9/11. Geller's enthusiasm for her British guests and their heroic stand against the Muslim takeover of Britain was unrestrained, and she reproduces a report that hails Lennon and Carroll in the following breathless terms: "These brave gents refuse to leave their homes in spite of the fact that their country is now in the second stage of Islamic transformation."
Introducing Lennon, Geller indignantly defended the EDL against what she called a "vicious campaign of defamation" in which the organisation had been falsely accused of promoting racism and bigotry. Later that same week the EDL's South West Durham organiser Paul ("Can I not say I hate pakis") Ross and his friends received heavy fines after being convicted of chanting a "sickening torrent" of anti-Muslim abuse at Middlesbrough railway station. Still, we have Geller's assurance that they're not racists or bigots.
As Richard Bartholomew has noted, during his own conference speech Kevin Carroll brandished front-page headlines from the Express and Mail to illustrate his paranoid claim that Christianity in the UK is under siege from Islam. Carroll thereby helpfully underlined an aspect of the EDL to which some of us have repeatedly drawn attention, namely the disgraceful role played by the mainstream right-wing press in providing the ideological inspiration for this gang of far-right street thugs.
As for Lennon, he's been going through a bit of a difficult period recently, so he must have welcomed the opportunity for an expenses-paid jaunt to the US where he could bask in the admiration of some well-heeled American supporters. Certainly beats standing in the street in Walthamstow having bottles thrown at you, eh Stephen?
Having returned from the US, "Tommy" scarcely had time to recover from his jet lag before he was off to Florence to receive what a British Freedom report describes as "the prestigious Oriana Fallaci Memorial Award for his services in standing up for freedom".
The award is of course named after the late Italian Islamophobe, Oriana Fallaci, a raving bigot who notoriously accused Muslims of "breeding like rats" and once threatened to blow up a mosque. So it would be difficult to fault British Freedom's statement that the leader of the EDL is "a worthy recipient of this award".