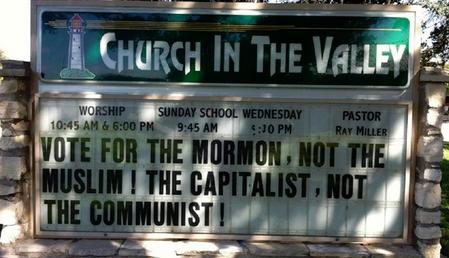 A pastor is causing a commotion in his Texas town – and possibly hurting with his non-profit status – because of a politically motivated church marquee.
The Church in the Valley marquee reads, "VOTE FOR THE MORMON, NOT THE MUSLIM! THE CAPITALIST, NOT THE COMMUNIST!"
The sign was an obvious reference to President Barack Obama, who conservatives say is a secret Muslim even though he says he is a Christian and attends church with his family. He said in an August interview with a religious magazine that it's not his job to convince people he's Christian. Republican presidential candidate Mitt Romney is a Mormon.
Pastor Ray Miller declined an interview with ABC affiliate KVUE but told the station the sign was his idea because he feels strongly about the election. He said this is not the first bold statement he has made on the marquee, which changes every week.
Since all churches and houses of worship are tax-exempt under federate law, they're barred from participating in political campaign activity.
"They are permitted under the tax laws to engage in other political activities (e.g., distribute voter guides and invite candidates to speak at church functions) so long as such activity does not support or oppose a candidate," a 2008 report on the subject reads.
As of 2002, however, the Internal Revenue Service reported that only two churches have ever lost non-profit status over campaign involvement.