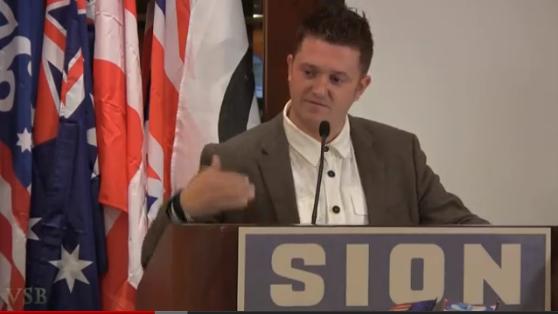 The EDL members released on bail after being arrested on Saturday– apparently en route to the East London Mosque – didn't include EDL leader Stephen Lennon, who has been remanded in prison on a charge of entering the United States illegally. This arises from his visit to New York last month to speak at the so-called International Freedom Defense Congress organised by Pamela Geller and Robert Spencer's Stop Islamization of Nations (SION).

Lennon had previously been refused entry to the US when he tried to attend a demonstration (also organised by Geller and Spencer) against the "Ground Zero mosque" in September 2010. So it was always pretty obvious that he must have got through US customs to attend last month's conference by using a false passport. It is difficult to believe that his hosts Geller and Spencer were unaware of this, and hopefully the US authorities are investigating that aspect of the case too.
Postscript:  It appears that Lennon's arrest over the New York trip wasn't exactly unexpected. Back on 10 October he was asking Geller to contact him to discuss problems arising from his appearance at her conference.

Update:  Lennon appeared at Westminster Magistrates' Court today and was remanded in custody until January 2013. The EDL confirms that the offence he has been charged with is passport fraud: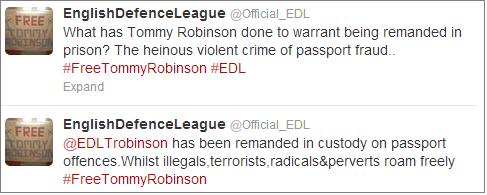 Update 2:  AFP reports that Lennon has been charged with "possession of a false identity document with improper intention" and quotes a Met police spokesman as saying: "The case relates to allegations that a man tried to travel to the US in September using another person's passport."
In addition, Lennon faces the prospect of being extradited to the US to face charges there.