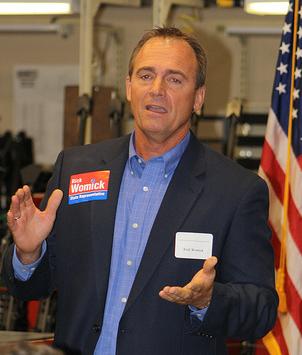 Debate surrounding proposed state legislation that critics say unfairly targets Islam continues to spill beyond the halls of the state Capitol. In a fiery email response to a local Jewish man, state Rep. Rick Womick defended his confrontation with a Columbia Muslim after a House committee hearing this week.
Womick, a Rockvale Republican who serves on the House Judiciary Committee, wrote an email Wednesday to Aaron Nuell of Murfreesboro stating that he sat "respectfully and politely" and listened to four people, including Daoud Abudiab of Columbia, accuse him and fellow legislators of denying them their constitutional rights, inflaming intolerance, making false accusations and being hate-mongers, racists and white supremacists such as the KKK.
"And you write me to scold me because I dare speak up and defend my character and confront a political-militaristic-religion responsible for 10 out of the last 11 terrorist attacks on Americans?" Womick wrote.
His letter was in response to a note from Nuell, a second-grade teacher and son of the late MTSU professor Lon Nuell, who wrote, "Please stop attacking your Muslim constituents. Some live in your district, and you were elected to represent them, too. You don't get to pick who you represent; in contrast, you chose to represent a diverse community. Your behavior is extreme and your questioning is in bad faith."
When the House Judiciary took a recess Tuesday shortly before noon, The DNJ reported that Womick confronted Abudiab, who spoke against legislation that initially targeted Islam and any Shariah-related support for terrorist groups. Womick asked him if he would publicly denounce Hezbollah and Hamas, two groups designated as terrorist organizations.
Abudiab, a member of the Islamic Center of Columbia, which was torched in 2008, said he would denounce those groups and anyone who is "a threat to our security."
Womick responded he was satisfied with Abudiab's answer but continued to press him, saying Islam is a religious, political and military organization and groups such as the Muslim Brotherhood and Muslim Student Association hold radical beliefs that Shariah law should replace U.S. constitutional law.