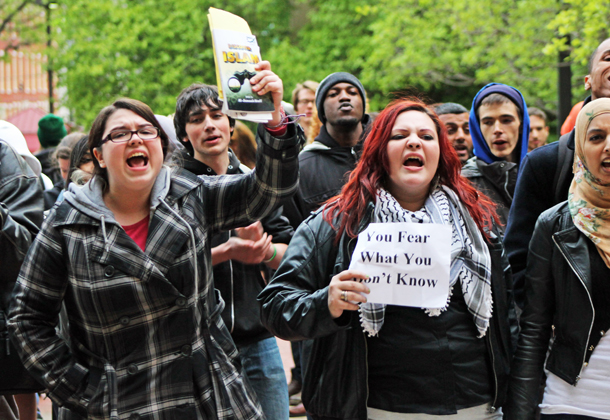 Protestors who had filled the auditorium seats at an anti-Muslim event on Temple University's campus Monday night left the room quite empty when they marched out in opposition after the discussion began.
The organization hosting the "Islamic Apartheid Conference," Temple University Students for Intellectual Freedom, says its mission is to introduce controversial issues often left out of mainstream debates and defends its right to political incorrectness. Panelists at the conference included Robert Spencer, contributor to the blog Jihad Watch, and Pamela Geller, famous for her hostility to the proposed construction of an Islamic community center near the site of the World Trade Center.
After walking out, more than 50 demonstrators, consisting of North Philadelphia residents, campus groups and Occupy Philly protesters, remained outside in the rain, holding signs and confronting attendees as they left the event in Ritter Hall, on Cecil B. Moore Avenue near 13th Street.
Walter Smolarek, a freshman education major at Temple University, said that the content of the conference is "based solely on irrational hatred toward people, in this case, because of their religious faith, and we don't feel like it falls under the umbrella of free speech, or should be part of political debate.
"An attack against Muslim communities is an attack against all working people," said Smolarek.
Philadelphia Daily News, 24 April 2012
See also The Temple News, 24 April 2012