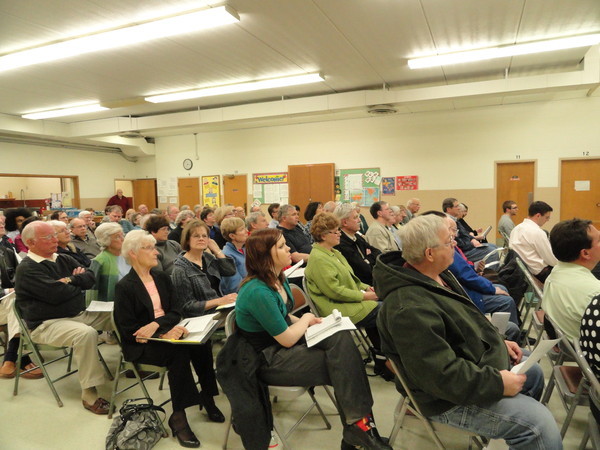 Religion dominated a forum Monday about a proposed mosque in Brookfield, with nary a question about traffic or location, as most in the audience backed the facility for the Islamic Society of Milwaukee.
Amid concerns about sharia law and Muslim treatment of women, a crowd largely supported a proposed mosque in Brookfield, applauding a man who apologized to local Muslims for some of the negative reaction they have faced.
"I want to say I'm sorry for the necessity for this (public meeting)," said Dudley Riggle of Brookfield, a retired Lutheran pastor and professor at Carthage College in Kenosha.
"We would not be having this occasion if we were about to build a new synagogue or Bahai temple or an ultra-conservative mega church or a liberal Protestant denomination and I'm sorry about this," Riggle said. "And I'm sorry that it degenerates into which religion is right… This is about something fundamental to our country, which is the freedom to worship as one sees fit, which is freedom of speech, freedom of assembly."
"Amen!" someone cried as many applauded.
But others, such as Brookfield resident Chuck Bloom, suggested the Muslim community and leaders should be more vocal about denouncing acts of terrorism. Some questioned whether local Muslims would follow the U.S. Constitution or try to impose their religious laws on the community.
Bob Viall of Brookfield said Muslims were trying create sharia law amid violence in some European countries. "How do we know that over time that isn't going to happen here? Because it is happening there," Viall said, drawing applause. "As more and more mosques get built and more and more Muslims come here, how do we know that it's not going to happen here?"
He questioned whether there would be an influx of immigrant Muslims.
Muslims from Brookfield on a panel told the audience of about 100 people that they were heavily invested in their local communities and had no desire – as some have feared – to dominate, subvert U.S. government law or convert people from other religions.
Brookfield Patch, 23 April 2012
See also Milwaukee Journal Sentinel, 23 April 2012
And the letter from the Brookfield-Elm Grove Interfaith Network in the Brookfield Patch