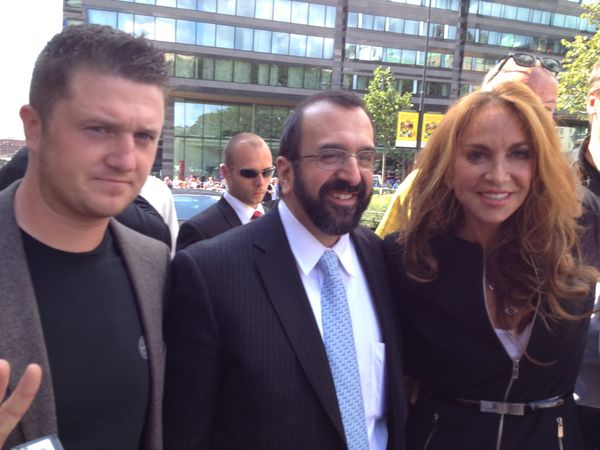 Standing for 'freedom and truth' in Stockholm – one British thug and two American nutters
A Stockholm rally by European and U.S. far-right groups seeking to create a global "counter-jihad" movement attracted fewer than 200 people on Saturday who were outnumbered by anti-racist protesters. Police said the rival demonstration was kept apart from the far-right rally and drew a few hundred people, a small number of whom were detained.
The far-right rally was organised by groups including the English Defence League (EDL) which has been a driving force behind a handful of similar events, most recently a Danish rally in March. The EDL gained international attention through anti-Islamic fanatic Anders Behring Breivik, who killed 77 people in Norway a year ago and who referred to it admiringly in a manifesto on the Internet. The group has denied links to Breivik.
Support has grown in European countries for populist, nationalist and anti-immigration movements and in Sweden the anti-immigrant Sweden Democrats won seats in parliament for the first time in 2010. However, previous attempts by European far-right groups to join forces have foundered amid splits and feuding over ideology and leadership.
Nottingham University's Matthew Goodwin, an expert on British far-right militant groups, said the Stockholm meeting was of strategic importance despite the modest turnout. "The attending are quite significant figures within the anti-jihad movement. It signifies the strengthening links between counter-jihad groups and anti-Muslim groups within Europe and the United States," he said.
EDL leader Stephen Lennon, who also calls himself Tommy Robinson and who founded the group three years ago, said the meeting was about sharing resources and coordinating strategies.
"It's about sharing ideology, sharing resources, work together in any way we can over the next 12 months in order to highlight the truth, the truth about Islam," he told Reuters on the sidelines of the Stockholm rally.
Pamela Geller, a leader of groups Stop Islamization of Nations and Stop Islamization of America, said the movement was planning to hold a conference in New York on September 11. "It's very important that it goes global because what we are fighting is a global ideology," she said.
See also "War rhetoric at anti-Muslim meeting", Expo, 4 August 2012
Sounds like the "First Worldwide Counter-Jihad Action" turned out to be a bit of a flop. Still, that hasn't prevented Geller from hailing it as a milestone in history:
Today heralded the dawning of a new era of cooperation between pro-freedom groups in Europe, the United States, Australia and elsewhere.

Freedom fighters from around the world converged in Stockholm to stand with one voice against oppression, tyranny and fascism…. several hundred people braved the Leftist thugs and the police barricades, and joined us, unbowed and resolutely determined to stand for freedom and truth.

When Robert Spencer and I got out of the car, the crowd started applauding, and so many people came up to us to express their gratitude for our work – it was humbling and gratifying….

All in all, today was a key turning point in this ugly and vicious war that we find ourselves engaged…. We made great strides in forging a true and lasting transatlantic (and transpacific as well) counter-jihad alliance. This is just the beginning.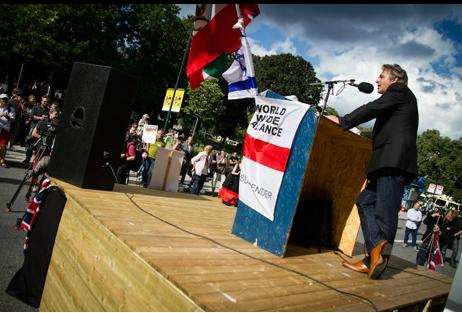 British Freedom party leader Paul Weston addresses the massed ranks of the worldwide counter-jihad movement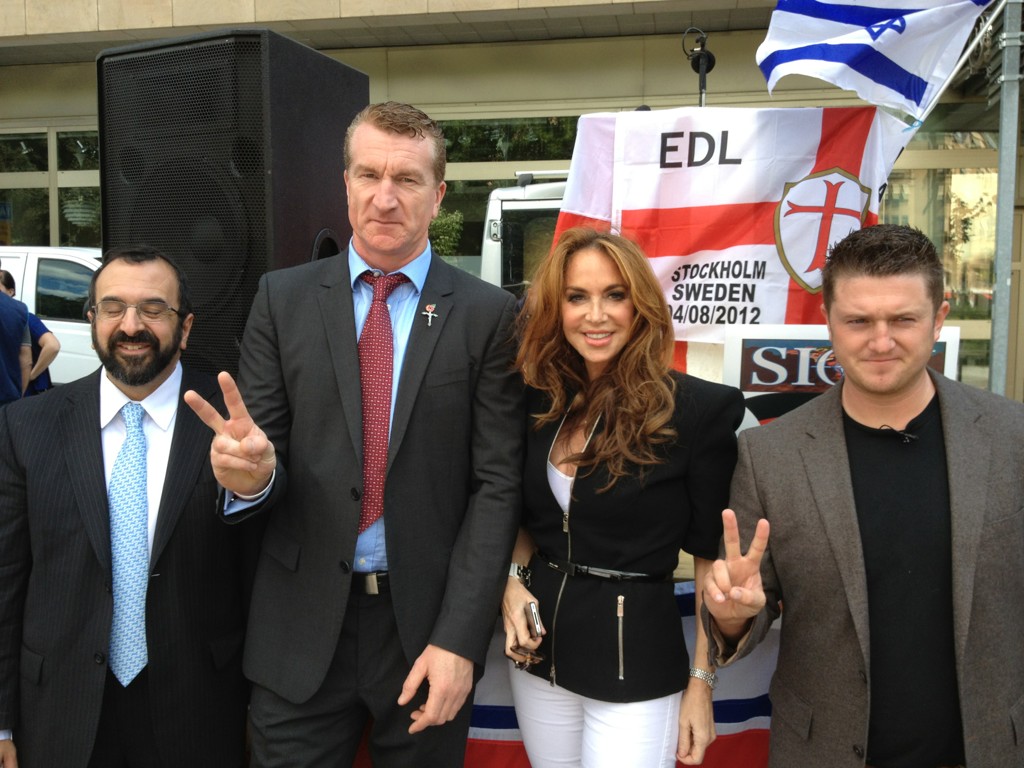 Make that two British thugs and two American nutters
Update:  See "Stockholm: The grand 'counter-jihad' meeting of the year draws 50, counter protesters draw over 1,000", Loonwatch, 5 August 2012