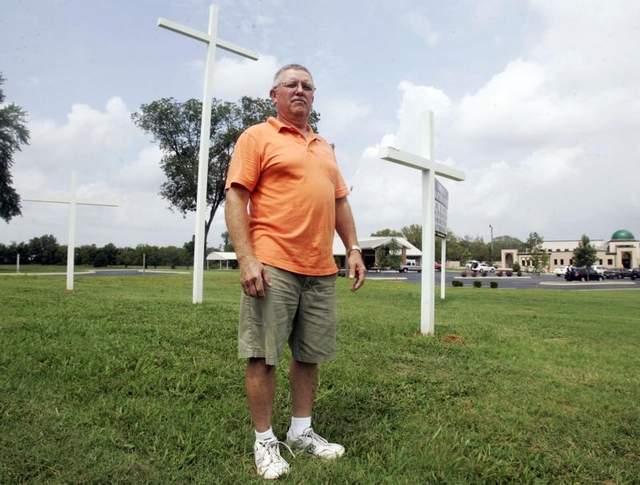 Islamic Center of Murfreesboro members will pass a field lined with 13 white crosses in front of Grace Baptist Church on Bradyville Pike on the way to their new mosque once it opens.
"It was more or less to make a statement to the Muslims about how we felt about our religion, our Christianity," said Mack Richards, a Middle Tennessee Baptist Church member who built the crosses at the request of Grace Baptist member and friend Bobby Francis. "We wanted them to see the crosses and know how we felt about things."
"That's what the church voted to do," said Francis, a member of Grace Baptist since the 1970s when it was on Dill Lane.
Grace Baptist moved into its current home of about 6,000 square feet two years ago and is currently served by interim pastor Dan Watts.
Given that the Baptists suffered no hostile reaction when they moved to their own new premises, you might have thought they would be sensitive to the discrimination suffered by their Muslim neighbours. Indeed, two years ago Watts' predecessor as pastor, the long-serving Rev. Russell Richardson, took a public stand against the anti-mosque campaign ("If we infringe their freedom – we infringe our freedom") and the church organised a seminar in which a former missionary to Syria advised that Christians should always treat Muslims with respect. It would appear that the Grace Baptist congregation have now rejected that advice.
See also "Fight against Islam stretches beyond Murfreesboro mosque", The Tennessean, 5 August 2012