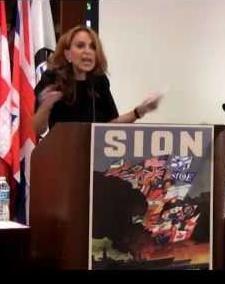 Loonwatch draws our attention to an attack on Islam made by a Hindutva extremist named Babu Suseelan at the so-called "International Freedom Congress" in New York last month that was organised by Pamela Geller and Robert Spencer's Stop Islamization of Nations.
"If we do not kill the bacteria, the bacteria will kill us", Suseelan told the audience. Otherwise, he warned, "Muslims will breed like rats and they will be a majority". But Suseelan finished on an upbeat note: "Islam can be stopped! And it can be wiped out."
Only a few weeks earlier Geller had denounced speeches made by Iranian political leaders to mark International Quds Day. President Mahmoud Ahmadinejad reportedly stated that "the Zionist regime and the Zionists are a cancerous tumor" and said that the region's nations would "soon finish off the usurper Zionists in the Palestinian land", while Iran's Supreme Leader Ali Khamenei described the Israeli regime as "the root of evil in the Middle East" and called on Muslims worldwide to take up the task of liberating Palestine from the grip of Israel and its allies. Geller described this as "genocidal rhetoric".
So, applying Geller's own criteria, there is no question that a speaker at her own conference advocated genocide against Muslims. Did Geller and Spencer immediately dissociate themselves from Suseelan's poisonous words? Not a bit of it. According to an eyewitness: "Spencer laughed, but Geller covered her face, as if witnessing the antics of a naughty child."
Update:  For more on Suseelan, see Bartholomew's Notes on Religion, 8 October 2012