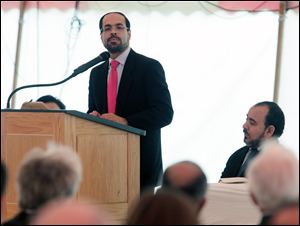 After a week dealing with the devastation that a fire caused at the Islamic Center of Greater Toledo, members and friends of Toledo's Muslim community were able to gather for prayer. Congregants did so under a tent Sunday because on Sept. 30 an arsonist burned the mosque's prayer room.
The suspect in the case, Randy Linn, is now in custody and has been charged with two felonies.
Fire, heat, smoke, and water affected every room of the Islamic Center and damage totaled $1 million to $1.5 million, said Dr. Mahjabeen Islam, the Islamic Center's president. Although repairs to the building could take six months, Dr. Islam said, she announced that Friday prayers this week will be held in the mosque's social hall and the weekend school will be in session there.
The Juma service – traditional Friday prayers – on Oct. 5 was a special gathering of the area's combined Islamic communities, and Sunday a multifaith prayer service was held that included addresses from leaders of many religions in the Toledo area and words from officials important to the Islamic Center, including U.S. Rep. Marcy Kaptur (D., Toledo), who volunteered to put on jeans and be there herself to work hard in rebuilding; assistant U.S. attorney Ava Rotell Dustin; Nihad Awad, the executive director of the national Council on American-Islamic Relations in Washington, and Angela Zimmann, the Democratic candidate for the 5th Congressional District, who was there in her role as a Lutheran pastor.
Public officials including Toledo City Council members D. Michael Collins and George Sarantou attended without being part of the program.
Several Christian ministers wore their clerical collars. And, as Judy Wilcox of Maumee United Methodist Church said when presenting a prayer quilt to the Islamic Center, "I'm just a regular kind of person, but I figured there'd be others like me here." The applause confirmed she figured correctly.
Dr. Islam, who was master of ceremonies for the prayer service, opened with remarks that revealed the depth of her pain from the attack on the mosque, associating that feeling with losses in her family through which, she said, "I learned to make my God my world."
In this world, among other actions, Dr. Islam said, "We will galvanize with our brothers and sisters of all faiths to call out Islamophobia when we see it," and that the Islamic Center "will work with our legislators to make Islamophobia a crime under federal law."
Rabbi Moshe Saks of B'Nai Temple Israel issued a charge to the congregation: "When you see your friends," he said, "tell them you were here and ask them why they were not here. Don't be obnoxious about it, don't be smug," he continued, "get them to talk about what this meant here." He made the point that through conversation, differences that cause hate and create the perception of an "other" can be eliminated.
Prayers were offered by, among others, Judy Trautman of the MultiFaith Council of Northwest Ohio, Ajit Jaggi of the Hindu Temple of Toledo in Sylvania, and Imam Farooq AboElzahab, the religious leader of the Islamic Center.
Mr. Awad of the national council said that one person – an arsonist – came to the Islamic Center on a Sunday a week ago, but "600 people came on another Sunday" for the multifaith prayer service.
"I urge of you to be visible and not to be silent," Mr. Awad said. "This is the take-home message: 'Don't be silent.' If you see Islamophobia, stand up. Push back. You don't have to be the imam. You don't even have to be a Muslim. Push back. When you see some bad and negative and biased coverage, which is a lot, speak up and challenge stereotypes. Because when people hear you, when they see you, you are really lighting a candle in front of darkness."