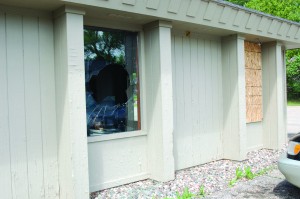 OWATONNA — Officials at Owatonna's Muslim Society Center are looking for answers after a window was broken at their location on 12th Street Northeast.
Center officials say that its the second time in two weeks and third time in a year that a window has been broken at the facility. The most recent damage was done about 1 a.m. Saturday.
Ali Farah, one of the leaders at the mosque, said they don't understand why they're being targeted. "We are members of the Owatonna community, and our building has been attacked three times," Farah said, speaking through an interpreter, Olad Ahmed. "We have been attacked two times in the last month."
After having a window broken in October last year, which was not reported to the police, no further vandalism occurred until May 17, when a window was broken again. Two weeks later – last Saturday – another window was broken. "People are wondering why our building is being vandalized. This is a worship place," Ahmed said.
The building is monitored by security cameras, but Ahmed said whoever is breaking the windows knows the layout of the building and is moving the cameras in order to obscure the acts.
On Tuesday, glass still littered the floor of the room the window looked into. The leaders believe the same person or group is doing the damage.
"We don't know what we're doing wrong. We're not bothering anyone," said Abdulkadir Sharifali, another one of the mosque leaders. Sharifali said he feels like the building could be being targeted because it is a worship center for followers of Islam in Owatonna.
"I've never heard of any church being targeted in Owatonna," Sharifali said. "I've lived in Owatonna since 2000, and I've never heard of anything like that in the news or anywhere else. I don't know why we're being targeted. I don't know if it's because we're a worship place for Islam or what."
Though no one was present when the vandalism took place, Farah said many are living in fear for what could happen next. "It's really scary. We are fearing for our lives," Farah said. "We don't know what could happen next. Our people and our children pray here all the time."
The group's message to those who are causing the damage is simple — please stop. They're encouraging anyone in the community with information to come forward and share that information.
"These are bad people. We are a peaceful community," Farah said. "We've never harmed anybody. This is a worship place. This is the place we use for our culture. Anyone who wants to know that is welcome all the time."