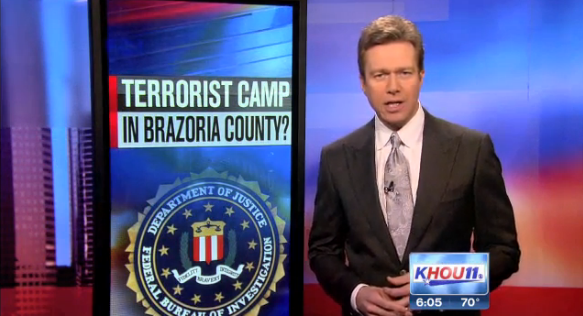 BRAZORIA COUNTY, Texas — A small community in Brazoria County has been causing a big stir over rumors that it serves as an Islamic terrorist training camp.
The community, called Mahmoudberg, sits along County Road 3 near the town of Sweeny. When an 11 News crew asked to see the property on Monday afternoon, the request was politely declined at the gate.
But Freeport Police Chief Dan Pennington was recently there. "The best description would be just a trailer park in the country," he said.
The visit followed a series of scathing online articles about the community which cite declassified FBI documents and allege that the site is part of an Islamic terrorist training network.
The view from the road, however, is underwhelming. Kids can be seen playing, chickens roam free, and nothing appears to be out of sorts.
Neighbors across the street say the commune has been there for years, and that they have never had problems. "They help us, we help them," neighbor Charlotte Broussard said. "I just don't understand why people want to start crap like that."
As for the FBI documents, Chief Pennington has yet to see them. "We've spoken with the FBI Joint Terrorism Task Force. There's just nothing out there," he said. "They tell us that there's no credible information about that site in terrorism."
Still, officials in Sweeny are acknowledging the concern by providing links to the articles in question on the city's website.