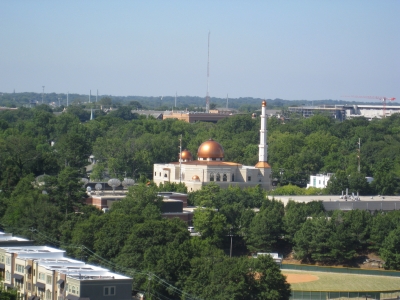 Members of a suburban mosque say someone took several shots with an air rifle last night at the building's outer wall in Morton Grove.
According to the Council on American-Islamic Relations, two air rifle shots were fired at the outer brick wall of the Muslim Education Center mosque, 8613 Menard Ave., damaging it.
A guard was working security at the center, where services were underway for Ramadan, when he heard a projectile hit the outside wall of the building at 9:20 p.m., said Morton Grove police Chief Mark Erickson.
No one was hurt and no one inside the center was near a window when the pellet-gun shooting happened, said the chief. "He was walking around outside and he heard this bang and he notified the police," Erickson said of the guard.
When officers got there, the guard told police that windows at the center have been damaged in the past, but "a number of them" were never reported to authorities.
"Due to the sensitive nature of the incident and with the previous criminal damage there, we contacted the Cook County state's attorney's office," the chief said.
"This is obviously an alarming situation that all parties are taking very seriously," said CAIR-Chicago Executive Director Ahmed Rehab in the statement. According to Rehab, the projectiles reportedly came within inches of the head of the security guard on duty.
Chicago Tribune, 11 August 2012
See also CAIR press release, 11 August 2012
Update:  See "Charges against Morton Grove man in connection with shooting at mosque", Chicago Tribune, 12 August 2012
And "Mosque leader wants hate crime charge for man held in pellet gun attack", CBS Chicago, 12 August 2012