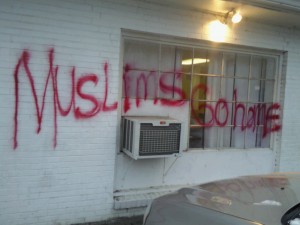 Vandals spray-painted insults on a mosque overnight and left a hate-filled letter to Nashville's Muslims.
Islamic leaders blame Channel 5's sensationalized two-night report about a crackpot organization's unfounded accusations of terrorist ties against a Middle Tennessee Muslim community.
"Muslims Go Home" and a Crusade-style cross were scrawled across the front of Al-Farooq Islamic Center on Nolensville Road, says Salaad Nur, a spokesman. He says the mosque, which primarily serves members of the Somali community, has contacted the police and the FBI.
"They also left a letter at the youth center that says Muslims are friends of Satan and we are here to destroy the United States and to destroy Israel and things of that nature," he says. "We're a little bit shaken up. I hope this is just a scare and things don't get any worse than this."
"It's unexpected," he adds. "The only thing I can think of is the sensationalized reporting [by Channel 5] over Sunday and Monday. That's the only thing I can think of. Even after 9/11 we have never had any vandalism."
Nashville Scene, 10 February 2010
Via LoonWatch
See also "Community reaches out to local Islamic Center after hate crime", City Paper, 11 February 2011