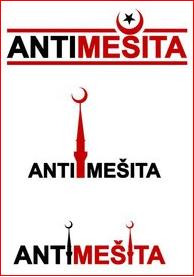 The twin terror attacks in Norway have refocused attention on Islamophobia in Europe and closer to home are sparking questions about a recent decision to use taxpayer money to fund an anti-Islamic campaign group.
"I can confirm it," said Imrich Dioszegi, a spokesman for the Hradec Králové Regional Authority. "The council supports two [campaign] groups of a similar name with a total amount of 15,000 Kč."
Those groups, both going by the name AntiMešita, or anti-mosque, are headed by Valentin Kusák, who said their goal is to "fight against the Islamization of the Czech Republic". "A month ago, we got a financial gift for our activities from the Hradec Králové region, which really delighted us," he added. "This gift will help us to cover our expenses."
The groups were formed in response to what Kusák said were plans to create a mosque in the city of Hradec Králové. The project he originally opposed has turned out to be an already-existing 50-square-meter building where members of the local Muslim community – many of them students at the nearby university – gather. The building was purchased by the Organization of Muslim Communities in the Czech Republic (UMO-ČR), and leaders of that group term it "a small house for worship."
"Islam is in its nature aggressive, and it tries to be dominant everywhere it enters," Kusák said. "Muslims are lying to us about their intentions; after all, that is what the Koran orders them to do in relationships with 'infidels.' The mosque is for me one the elements of Islamization, and that is why I oppose it. I am for religious freedom. … But Islam – as preached by Muslim representatives and lecturers around the world as well as in the Czech Republic – is incompatible with democracy."
The Czech Statistical Office has no official numbers on the country's Muslim population, but estimates put it at around 15,000, a number that would account for just more than 0.1 percent of the population, as compared with an estimated 8 percent in France, Germany's 5.4 percent and Norway's 3.4 percent.
"The fact that a council supports the activities of AntiMešita is totally not right, but others are to judge such actions," said UMO-ČR Chairman Muneeb Hassan Al Rawi. "I compare such initiatives to fascism. Especially after Friday in Norway, everyone should clear up their perspective, because it came to light that not only Muslims have a patent on terrorism."
Asked if he was worried about Islamophobia in Europe and the Czech Republic, Al Rawi said: "Of course, the concerns are growing."
"I am a Czech citizen. I have lived here for 25 years, and still every time I return from abroad I get stopped at the airports by customs officers," Al Rawi said. "Now, after Norway, when a guy does it to his own people and he is not Muslim, basically anything can happen. We knew this a long time ago, but if I said this a week ago you would have considered me a fool."