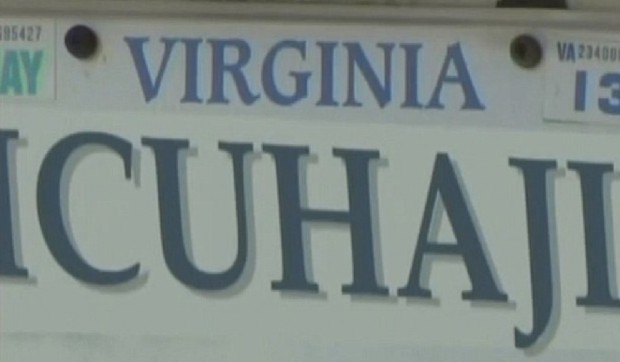 When an Iraq War veteran filed an appeal last month to get back his personalized license plates, his attorney claimed the Department of Motor Vehicles had misinterpreted them.
The tag that read "ICUHAJI" was intended only as a message of support for U.S. soldiers in Iraq and Afghanistan, he said. Not as a threat against Arabs.
What Andrew D. Meyer failed to mention was the content of the previous message his client had tried to get on his plates: HAJIKLR.
In court papers filed Friday, an attorney representing the DMV mentioned how Sean Bujno of Chesapeake requested the HAJIKLR plates in 2007 and was subsequently denied. Assistant Attorney General Janet Westbrook said the ICUHAJI plates – which can be read "I see you, Haji" – carry the same connotation.
"Although (Mr. Bujno) claims he did not intend the plate to be threatening or offensive, it cannot be interpreted any other way," she wrote in a motion to dismiss the appeal.
A hearing to determine whether Bujno can get back his ICUHAJI license plate – which he had on his car for more than four years – is scheduled for Aug. 21 in Circuit Court.
Meyer declined Tuesday to comment on the original tag his client requested, calling the request "irrelevant." For Meyer, the appeal boils down to constitutional arguments. He contends the DMV violated Bujno's First Amendment right to free speech and his 14th Amendment right to due process when the agency revoked his tags.
During an interview with The Virginian-Pilot last month, Meyer said he was not arguing whether the state has the right to deny vanity tags. Rather, he claimed the DMV was wrong to take into consideration his client's previous license plate request and a bumper sticker on his client's car.
He declined at the time to say what his client had wanted on his plate in the 2007 request but confirmed that a bumper sticker on the car read: "God bless our troops, especially our snipers."
Meyer went on to note the historic definition of haji – "a person who has made a pilgrimage to Mecca" – and said his client had expanded the meaning to include all U.S. soldiers who have served in Iraq.
"He's not intending it to mean Arabs," he said.
In her motion, Westbrook disagreed. She said the state now denies all personalized plates that include "haji" on the grounds the word is generally viewed as "derogatory and racist."