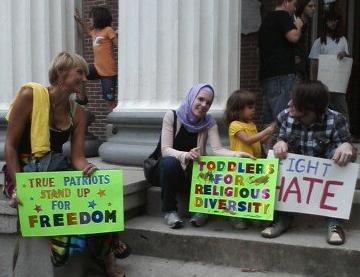 Supporters of a new mosque in Murfreesboro asked Rutherford County commissioners on Thursday not to bow to pressure to rescind approval of the project and accused opponents of making the community look bad.
"The embarassment, shame and humiliation I feel as a lifelong resident cannot be expressed in words strong enough," said John Green, who described himself as a fifth generation resident.
He and several others sought to dispel the idea that those who support the mosque are outside agitators. Several speakers held up their drivers licenses while introducing themselves.
"Here's proof that I'm not from out of town," said Jase Short. He attributed mosque opposition to a desire "to influence elections on behalf of an agenda of hate."
The one person speaking against the mosque, Donald Westcott, of Smyrna, held up a book called "Sharia Law for Non-Muslims" that he said he had passed out to the commissioners. He said he believes Muslims want to take over the country and impose Islamic law.
"This democratic council would have to be disbanded because you would have to submit to an imam or mullah," he said.
Associated Press, 17 September 2010
See also "Lawsuit filed to stop Mosque as supporters speak up",Murfreesboro Post, 17 September 2010