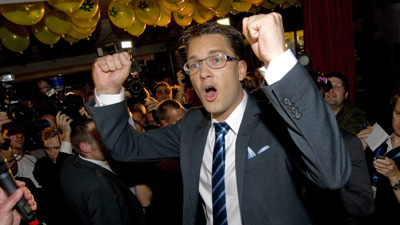 Sweden Democrats leader Jimmie Åkesson celebrates
Sweden's governing centre-right alliance has been re-elected, but may be short of an overall majority, official preliminary results show.
According to the figures, PM Fredrik Reinfeldt's four-party coalition has won 173 seats out of 349 in parliament.
The far-right Sweden Democrats are said to have gained more than 4% of the vote, enabling them to enter parliament for the first time.
Mr Reinfeldt said previously he did not want to speculate on how his Alliance for Sweden coalition would deal with the anti-immigration Sweden Democrats if they got into parliament.
See also "Sweden Democrats savour parliament entry", The Local, 19 September 2010
The Sweden Democrats have got 5.7% of the vote and 20 MPs.