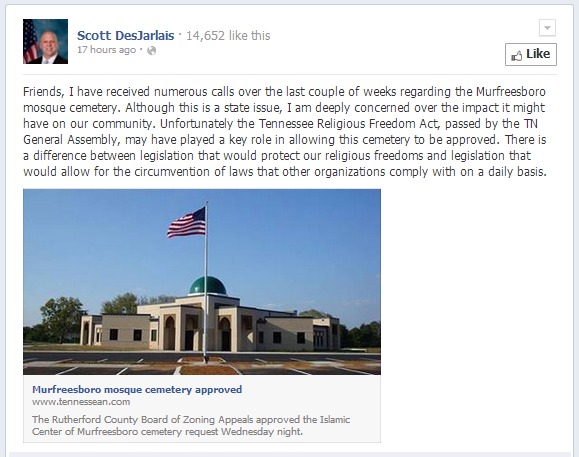 Rep. Scott DesJarlais (R-Tenn.) is "deeply concerned" about a newly approved plan to build a cemetery for Muslim residents of the central Tennessee city of Murfreesboro. Desjarlais, a doctor who won his seat in 2010 in part because of his outspoken opposition to abortion rights, is best-known nationally for the 2012 revelation that he had urged one of his patients to get an abortion after he impregnated her. He expressed his anxiety about the cemetery project in a post on his Facebook page Friday afternoon. The comment was first noted by the Nashville Scene.
"Unfortunately the Tennessee Religious Freedom Act, passed by the TN General Assembly, may have played a key role in allowing this cemetery to be approved," DesJarlais wrote. "There is a difference between legislation that would protect our religious freedoms and legislation that would allow for the circumvention of laws that other organizations comply with on a daily basis."
The Islamic Center of Murfreesboro, which is building the cemetery, has been a lightning rod for criticism from religious conservatives (including GOP Rep. Diane Black, who represents Murfreesboro), who have accused its members of plotting a stealth jihad against fellow American citizens. In 2010, opponents of a mosque expansion project filed a lawsuit to block it, arguing that the Islamic center was not protected by the First Amendment because Islam is not a real religion. According to the plaintiff's lawyer, the Islamic center would by default promote spousal abuse and pedophilia, which he considered to be core tenets of Islam. The building site was damaged by arson in 2010 before finally opening two years ago.