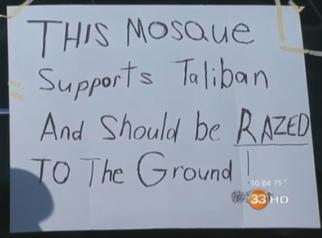 The South Florida Imams accused of terrorism were arrested right in front of their mosques, disrupting the neighborhoods around them. Monday night, one of those neighborhoods saw more commotion.
Mosque protester Mark Dubynsky says standing outside the Flagler Mosque in West Miami-Dade with a sign demanding the mosque be razed to the ground was about self-expression. "This is not about hate, this is about not keeping a shrine that promotes hate in the neighborhood," he told CBS4's Natalia Zea.
Mosque worshipper Samad Nassirya feels differently. "That's a threat, he's threatening us," he told Zea.
Dubynsky drove from Palm Beach to the mosque to make a statement, after the mosque's imam Hafiz Khan was arrested and charged with funneling money to terrorists. "I think if your leader, your church, your mosque is supporting terrorism then I think that building, that mosque needs to be torn down," said Dubynsky.
Nassirya called police Monday evening, saying Dybynsky and his sign were scaring fellow Muslims away from their evening prayer service. "People come here five times to pray and now all the women and children are scared to come here and we're gonna lose all our people," he said.
Nassirya is especially upset, because he doesn't believe the allegations against his imam. "It's ridiculous. He's a saintly man, he's a saintly man."
Cf. "Does the arrest of an imam and his sons reinforce stereotypes of Muslims?", South Florida Sun Sentinel, 17 May 2011