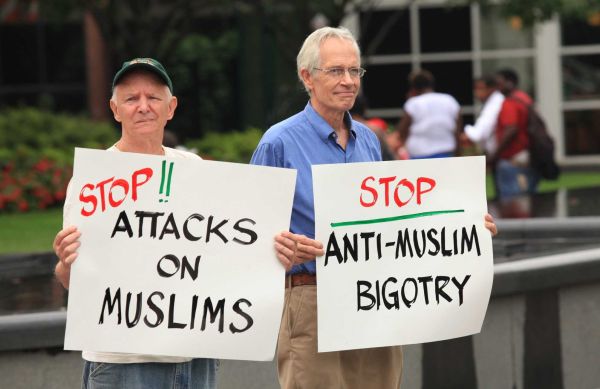 WHITE PLAINS — As supporters held up signs protesting Islamophobia, a coalition of community leaders and residents gathered downtown Thursday to denounce anti-Muslim advertisements posted at Metro-North stations throughout Westchester County.
The coalition revealed its plan to counter the anti-Islamic campaign, calling on Metro-North to distance itself from the advertisement and donate revenue earned from its publication to an organization that combats extremism.
Paid for by the American Freedom Defense Initiative – a group led by Pamela Geller – the ads associate the religion of Islam with 19,250 terrorist attacks carried out by extremists since Sept 11, 2001. Printed in large block lettering on a dark background, an asterisk denotes that number is rising, and a slogan below reads: "It's not Islamophobia, it's Islamorealism."
"The bigotry and hate this ad directs at Muslims and Islam is totally unacceptable in Westchester or anywhere else," said Priscilla Read, a community activist who helped organize the event. "Our purpose is to raise awareness about what this ad represents, and mobilize action in support of our Muslim neighbors."
Geller told The Journal News the advertisments highlight the reality and magnitude of Islamic jihad and the mainstream media's cover-up of it.
Greenburgh Supervisor Paul Feiner called on the Metropolitan Transportation Authority to publicly denounce the signs, suggesting a disclaimer be placed on Metro-North platforms saying the agency does not support the advertisement.
Marjorie Anders, a spokeswoman for Metro-North Railroad, said it does not endorse the viewpoint expressed in the ad but refrains from banning advertising based on its message. Anders added that the railroad relies on advertising to generate revenue. MTA chairman and CEO, Joseph Lhota, has indicated the agency will discuss its policies on political ads later this month.
"When I first saw the word Islamorealism, I thought, 'Hey, maybe these people actually met some Muslims'," said Rev. Gawain de Leeuw of St. Bartholomew's Church in White Plains. "But I know these people. I know they are opportunists who seek to prey on the fears and worries of hard-working Americans. But what they don't know is that this will not work. Toleration is a part of our American DNA from the very beginning."
Journal News, 6 September 2012
See also "Metro-North billboards spark Islamophobia discussion", Newsday, 6 September 2012