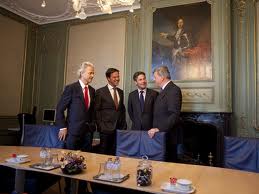 Once the burqa ban passed by the Dutch conservative coalition on Friday is approved by parliament, police will be obliged to enforce it, Security and Justice Minister Yvo Opstelten stresses.
"The minister expects police to enforce the ban in accordance with the law", Mr Opstelten's spokesperson emphasised. The statement comes in response to criticism voiced by the National Police Union and the central works council of the national police force that is currently being set up.
The chair of the police works council, Frank Giltay, had said there is no need for a burqa ban, which, he added, is unlikely to have any practical benefits. Burqas, he underlined, do not pose a threat to public security. He criticised the ban as a "symbolic policy".
Green Left leader Jolande Sap also denounced the intended ban as a symbolic policy. Speaking on radio on Saturday morning, Ms Sap argued that women's emancipation required different measures, such as education and language courses.
She also slammed the cabinet for going to such lengths to make the burqa ban acceptable by allowing a raft of exceptions, such as wearing balaclavas in winter or donning masks and veils during carnival. "Maybe I'll wear a burqa for carnival," the MP joked.
The coalition of the conservative VVD and Christian Democrats had previously agreed with Geert Wilders' anti-Islam Freedom Party, which backs the minority cabinet on an agreed package of policies, to institute the burqa ban this term.
The cabinet adopted the ban on Friday despite grave reservations expressed by the Council of State, the government's top advisory body and the country's highest court, regarding its legality and feasibility.