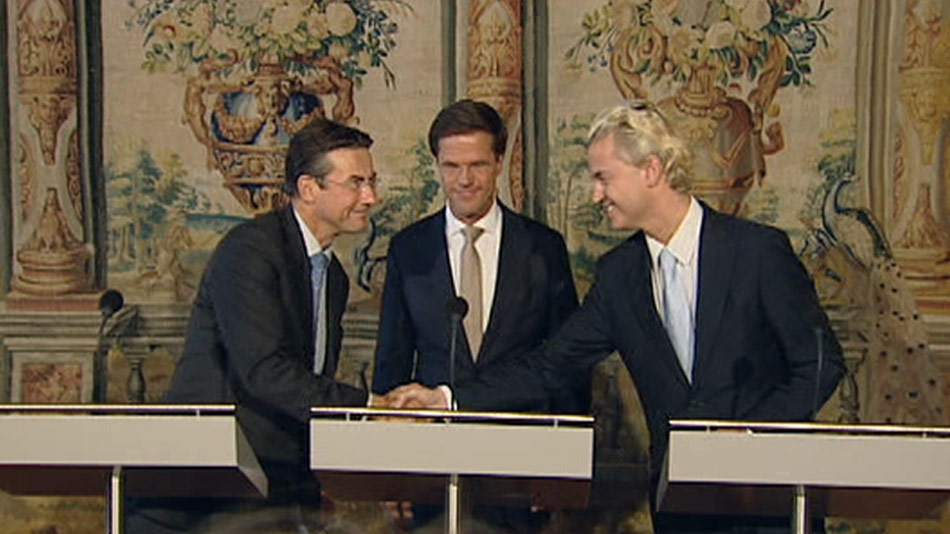 September 2010: Verhagen and Wilders shake hands on their political deal
The Dutch Cabinet moved a step closer Friday to banning the burqa, making good on an election promise that is largely symbolic but has broad public support.
Deputy Prime Minister Maxime Verhagen said the Cabinet agreed on plans to ban the head-to-toe Islamic gown along with other forms of face-covering clothing including ski masks. The legislation must still be approved by both houses of the Dutch Parliament, a process that could take months. "We are confident we have a majority," Interior Minister Liesbeth Spies said.
Once seen as one of the world's most tolerant nations, the Netherlands has turned increasingly conservative in recent years and is pushing immigrants more to fully assimilate into mainstream Dutch society. Anti-Islam lawmaker Geert Wilders welcomed the decision in a tweet as "fantastic news."
Like neighboring Belgium, the Dutch government cited security concerns as a reason for the ban and framed it as a move to safeguard public order and allow all people to "fully participate in society". "People must be able to look one another in the eye," Verhagen said.
The Dutch decision came despite criticism of the ban from independent advisory panel the Council of State, which reportedly suggested it could amount to an attack on freedom of religion. Verhagen denied ignoring the advice and said ministers took it into account when laying out the reasons underpinning the legislation. The government is confident that by citing public order concerns, the legislation will not breach the European Convention on Human Rights.
Leyla Cakir, head of Muslim women's organization Al Nisa, said she was surprised and shocked by the decision. "You are taking away women's right of self-determination, and it is all based on fear," she said.
But in a statement announcing the decision, the government said it was helping women. "Having to wear a burqa or niqab in public goes against equality of men and women," the government said. "With this legislation, the Cabinet is removing a barrier to these women participating in society."
Associated Press, 27 January 2012
See also "Ministers vote for Dutch 'burqa ban'", RNW, 27 January 2012
A ban on the veil was part of the deal the VVD and CDA made with Wilders in September 2010, in exchange for his party's support for their coalition government. However, it would be unfair to accuse Maxime Verhagen of adopting this policy out of mere political expendency. He has a record of Islamophobia going back some years.
Wilders isn't the only person celebrating this so-called advance for women's rights. Forbes contributor Abigail R. Esman comments:
"… for the women who have ached to be free of these constraining garments, whose daily lives are at risk simply walking in the streets (it is almost impossible to navigate safely in such vestments, which severely limit your field of vision); whose husbands have forced them to live essentially as prisoners in solitary confinement, today marks a moment of liberation. Granted, this will in no way change the mindsets of Muslim extremists. Islamist women will continue their campaigns of hate no matter how they are dressed; but they will no longer be able to force those lifestyles on their daughters. It's a start."