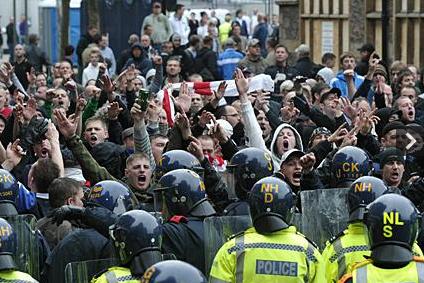 English Defence League in Leicester, October 2010
The Leicester Mercury has a good editorial expressing well-based scepticism about the English Defence League's assurance to Leicester businesses that its planned protest against "anti-white racism" next Saturday will proceed peacefully.

Editorial in the Leicester Mercury
The English Defence League has written an open letter to Leicester businesses in which it states that its only intention in coming to Leicester next Saturday is to stage a peaceful protest.
We sincerely hope this is how things turn out but the EDL cannot be surprised that people are fearful about its return to Leicester. On the last occasion it staged a protest here, in October 2010, people in the EDL section pelted police officers with bottles, cans, bricks and coins.
At one point a Leicester Mercury reporter and photographer had to flee a building as debris crashed through the windows. Another group of EDL followers broke through police lines to engage in running battles with local youths and officers. In contrast, Unite Against Fascism, which the EDL tends to accuse of provoking trouble, staged a counter-protest which seemed to us to be entirely peaceful. This is not propaganda, as the EDL would no doubt suggest, but what our journalists saw with their own eyes.
The EDL in its open letter is also at pains to assert that it is not seeking to divide communities but to unite them. However, earlier in the letter it says, without a shred of evidence to support its claim: "It has become increasingly evident that there is an anti-English sentiment amongst some communities of Leicester."
It is hard to imagine a much more divisive statement than this.
The EDL believes that there is a "two-tier justice system" at work in the UK where Muslims are treated more leniently than English people. It is coming to Leicester because its supporters think that a court case last year at the city's crown court illustrated this.
We are not going to go through all this again – we did so at lengthlast Saturday – suffice to say that what actually happened in court does not bear out the EDL's view. We know because our reporter was at the hearing.
The EDL's open letter is articulately expressed in measured tones. Some people might conclude that it is perfectly reasonable. However, our experience of this group is not a good one and we think that what its supporters say and do is frequently divisive and damaging. That is not scaremongering or propaganda but is based on what we have seen for ourselves.