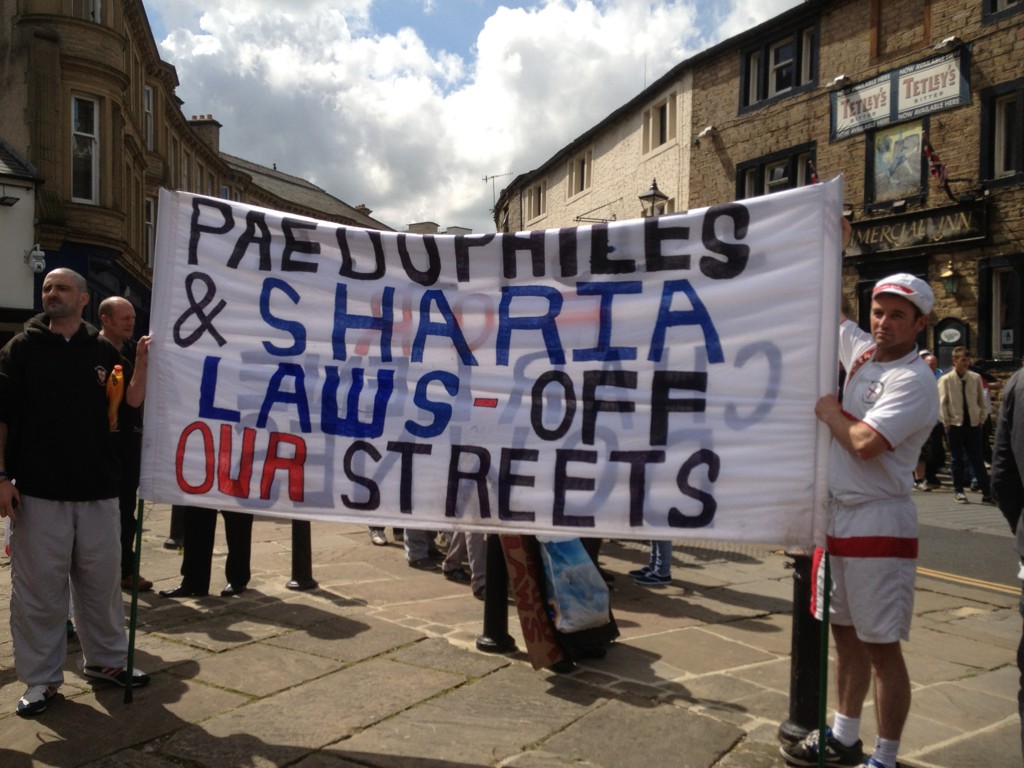 The English Defence League protesting in Keighley on Saturday
Five people were arrested during a demonstration by the far-right English Defence League (EDL) against alleged sexual grooming, police said today.
A West Yorkshire Police spokesman said the arrests were all for "public order offences" and came either during or after the extremist group held its protest in Church Green, Keighley, on Saturday. Those arrested have now been released on bail pending further inquiries.
However, the spokesman could not say how many extra officers were drafted in to police the demonstration, or how much it cost. Dozens of officers were on patrol during the demonstration as well as community and Bradford Council leaders. The spokesman said: "The operation was undertaken using the existing resources available to the force."
Anti-racism campaigners have praised the resolve of Keighley's community for "failing to rise to the bait." Paul Meszaros, a spokesman for the Hope Not Hate group, which campaigns against the EDL and other far-right groups, said: "What is important is what we saw in Keighley on Saturday. The overwhelming majority of ordinary people were opposed to the presence of the EDL but they did not rise to the bait. It was very encouraging."
Meanwhile, Mr Meszaros called for a police investigation after supporters of the EDL posted threats to blow up a Keighley mosque. One uploaded a picture of the Markazi Jamia Mosque in Emily Street which was said to have been taken by an EDL supporter at the demonstration.
A police spokesman said: "West Yorkshire Police are aware of a number of offensive postings on the internet made by different parties. We will routinely follow them up."
Telegraph & Argus, 6 August 2012
---
Given that West Yorkshire's chief constable, Sir Norman Bettison, heads a specialist unit charged with monitoring extremism on the internet, you might think the police there would be well placed to take action against the EDL's Facebook threats. Unfortunately, Bettison has expressed the view that messages posted on the internet by the EDL rarely warrant prosecution, because they are merely "inappropriate, brash or insensitive".
In reality, the comments made in response to the photo of the Markazi Jamia Mosque – "Blow the fker up" and "Bomb it" – are entirely typical of the inflammatory anti-Muslim material posted online by EDL supporters. Yet it is only rarely that any attempt is made to prosecute them. If it was an extremist Muslim group that was behaving like this, you can be sure the police would take the situation far more seriously.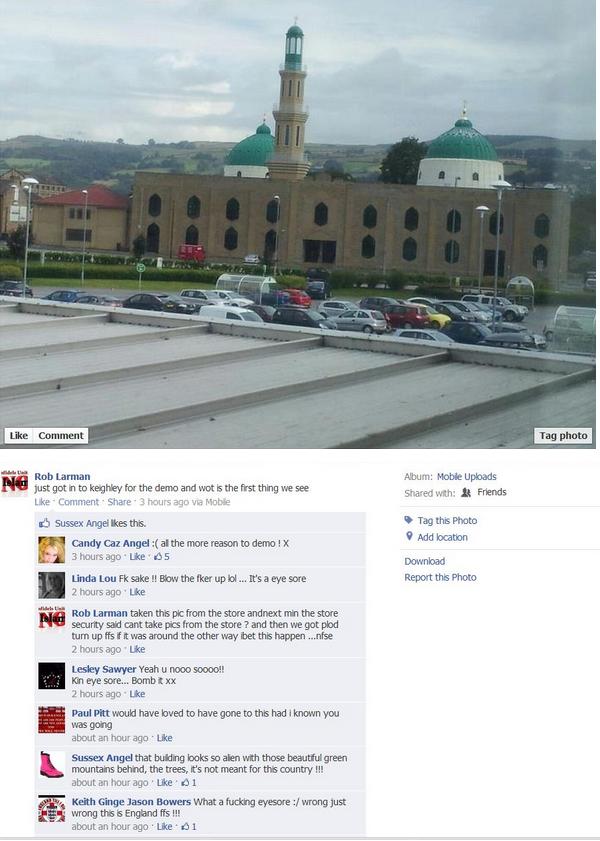 See also "Keighley Demo: EDL fight each other and threaten to bomb mosque", EDL News, 5 August 2012