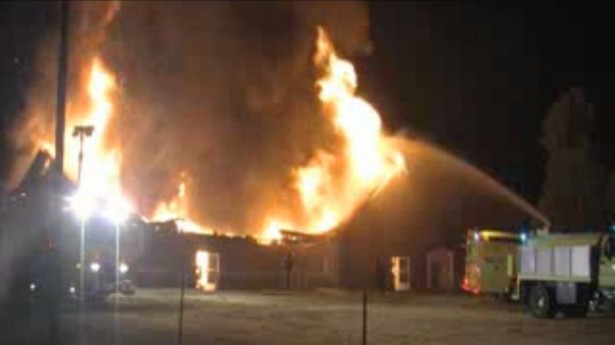 A mosque in southwest Missouri burned to the ground early Monday in the second fire to hit the Islamic center in little more than a month, officials said.
The fire at the Islamic Society of Joplin was reported about 3:30 a.m. Monday, the Jasper County Sheriff's Office said. The sheriff's department said the building was a total loss. No injuries were reported and no charges have been filed.
Imam Lahmuddin, who leads the mosque and was in the building until late Sunday, said he was "sad and shocked" about the fire.
"I'm still in front of the building looking at the damage and nothing can be saved," Lahmuddin said in a telephone interview Monday. "But since we are people of faith we just can remember that this is a thing that happened because God let it happen, and we have to be patient, particularly in the month of Ramadan, control our emotions, our anger."
A blaze at the same building July 4 caused minor damage and was determined arson. No arrests were made and the FBI has offered a $15,000 reward for information leading to charges in that fire.
The agency released video footage of what appeared to be a man starting the July blaze that did not cause extensive damage. Sharon Rhine, spokeswoman for the sheriff's office, said the center's security cameras were burned in the Monday fire.
The FBI is investigating the cause of the latest fire and whether or not it was also the result of arson, said agency spokeswoman Bridgett Patton.
A Washington-based Muslim civil rights organization meanwhile called for more police protection at mosques and other houses of worship following the Joplin fire and a deadly attack at a Sikh temple in Wisconsin. The Council on American-Islamic Relations also offered a $10,000 reward for information leading to the arrest and conviction of whoever started the mosque fire.
Associated Press, 6 August 2012
See also "Members of other religions offer support to Joplin Muslims, call fire 'senseless'", Joplin Globe, 6 August 2012