Wilders' tweet in response to Trouw article: 'Islamofascism is advancing in the Netherlands'
Claims by newspaper Trouw that part of The Hague's Schilderswijk district is so dominated by orthodox Muslims they are dictating what people should wear and how they should behave, have been denied by both police and local politicians.
Under the headline "Hague district is orthodox Muslim territory", Trouw said "short skirts and dresses are not accepted on the street". The paper said the area, with a population of some 5,000, is known by locals as "The Sharia Triangle". "Very slowly, the rules in the area are beginning to change," the article said. "The norms of the majority are beginning to take over."
Trouw interviewed a woman, named as Wilma, who said her daughter had been hassled about her style of dress and her son had been called a kafir for lighting a cigarette.
A veiled Muslim woman named Meryam told the paper that dressing modestly would do the locals good. She pointed out that "women in the heart of the Bible belt wear long skirts and no-one works in Staphorst on Sunday".
The paper also interviewed one man who said he feels he is being driven out of the area because he owns a dog. And a local youth gang member said criminality has dropped, not because of extra police efforts, but because the youngsters are "afraid of the wrath of Allah".
The article generated a tweet from anti-immigration campaigner and MP Geert Wilders who described the situation as "islamofacism" and said he will visit the area as soon as possible.
Other MPs demanded a parliamentary debate on the issue. Socialist MP Sadet Karabulut said she recognised some of the things Trouw describes in her own experiences in the locality. She called for efforts to improve the mix of housing in the locality and measures to ensure schools have a better ethnic mix.
But locals were quick to describe the article as exaggerated. "We know the area is dominated by Muslims, yes," said local Christian Democrat leader Gert-Jan Bakker. "But we have never noticed they are in control."
Local police chief Michel de Roos told broadcaster Omroep West claims by Trouw that the police allow locals to solve their own problems is not true. The police presence in the area has been strengthened and local beat officers have a strong local network, he said. "We have had no indications there is a sort of sharia police," he said. "That is not to say it does not happen, but we are unaware of it."
Update:  See also "Politicians head for 'Sharia triangle' to find out for themselves", Dutch News, 21 May 2013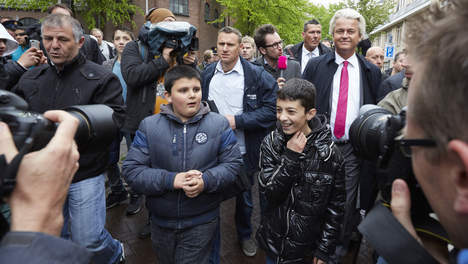 Photo op for far-right racist – Wilders pays a visit to Schilderswijk