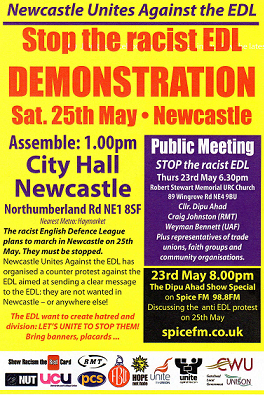 The English Defence League is to hold a demonstration on the streets of the North-east at the weekend.
Although few details have yet been announced, the EDL confirmed it plans to hold a national protest in Newcastle on Saturday (May 25) over proposals to open an Islamic school in the city.
Newcastle City Council has approved a planning application for a new faith school to be opened at Bishop's Palace in the Benwell area of the city, previously used as the set for the BBC children's series Byker Grove.
Meanwhile, a coalition of trade union and anti-fascist groups have announced a counter march and demonstration to take place on the same day. The Newcastle Unites Against The EDL march will assemble outside Newcastle City Hall at 1pm on Saturday.