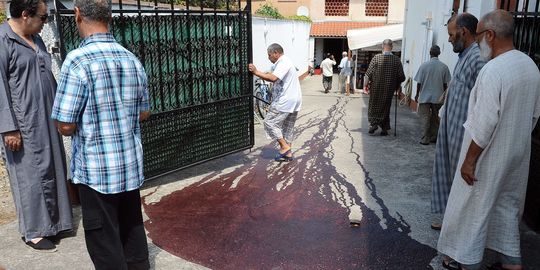 Muslims attending morning prayers Wednesday were confronted by two pigs' heads in the entrance to their mosque in a French town where an Islamist gunman killed two paratroopers in March.
The incident in Montauban was described as a "racist provocation" by a watchdog which monitors anti-Islamic actions in France and as an "odious and blasphemous act" by the Montauban mayor, Brigitte Bareges.
It was the first of its kind in the southern Tarn-et-Garonne region but officials refused to speculate on a possible link to the March tragedy.
The paratroopers killed in March were two of the seven victims of Mohamed Merah, who also shot dead three Jewish schoolchildren, a rabbi and another soldier in nearby Toulouse before being killed himself in a police siege of his apartment.
Hajii Mohamed, the imam at the mosque, told AFP the people who had left the pigs' heads had also spilled a large amount of blood on the floor of the entrance to the mosque, which is located in a town house that has been converted to a place of worship.
"It is contemptible," the imam told AFP. "To attack a religion like this, I don't know what is happening. People lose their heads, especially during Ramadan."
Abdallah Zekri, the chairman of France's Islamophobia Observatory, said Wednesday's outrage occurred against the background of an increase in anti-Muslim actions in the first half of 2012. "For this to occur during the holy month of Ramadan, it's unspeakable," he said. "It is racist provocation."