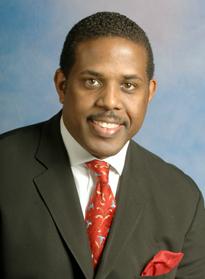 State Senate Democrats are out with a release today blasting Republican lawmaker Greg Ball for holding a hearing which they claim is designed to "isolate and villify Muslims."
The hearing, called "Reviewing our Preparedness: An Examination of New York's Public Protection Ten Years After September 11" will be held Friday at 250 Broadway in Manhattan and will feature Nonie Darwish, a human rights activist who has attracted a good deal of controversy for her views on Islam, particularly the idea that the religion teaches its adherents to hate non-believers and to subjugate women.
The Democrats also blasted Senator Ball for inviting Frank Gaffney, a columnist who has questioned if Barack Obama was born in the United States. Ball said that Gaffney, in fact, will not attend.
"They are not people who are experts in security," said Senator Kevin Parker of Brooklyn [pictured]. "They are folks who have developed their name by spending their time criticizing and attacking Islam, which is not where we think we ought to be as a legislature."
New York Observer, 5 April 2011
See Senator Kevin Parker press release, 5 April 2011
Read the letter by Senator Parker and other Democrats to Greg Ball here.