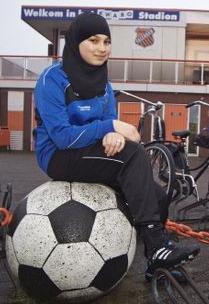 Catholic schools are allowed to forbid Islamic pupils to wear headscarves. Such an item of clothing is in conflict with the Christian principles of the institution, which are protected by freedom of education, a district court in Haarlem ruled yesterday.
Don Bosco College, a Catholic secondary school in Volendam, forbade a 15 year old pupil, Imane Mahssan, to wear a headscarf. The girl then took the school to court, but has now lost the case.
According to the judges, the headscarf ban fits into the Catholic character of the school, whereby different expressions of faith are not allowed. The judge considers that the headscarf ban does not restrict freedom of expression and that the school is not discriminating on the basis of religion.
Don Bosco College introduced the headscarf ban last September, a few months after Imane had made a request to wear one. Because the girl received no response to her request for months, she started to wear the headscarf.
Don Bosco College said the school may not have indicated any headscarf policy in response to Imane's request, but it was already in the school rules that pupils must respect the Catholic basis of the school. This was of importance in the ruling by the Haarlem court.
Earlier, the girl's case was in fact upheld by the Equal Treatment Commission (CGB). This advisory court only makes non-binding rulings, though the courts usually do adopt the CGB conclusions.
NIS News Bulletin, 5 April 2011
See also RNW which reports: "Geert Wilders, leader of the anti-Islam Freedom Party, has been quick to congratulate the school on the verdict. On Twitter he wrote: 'A just ruling! I hope many Christian schools will follow this example'."