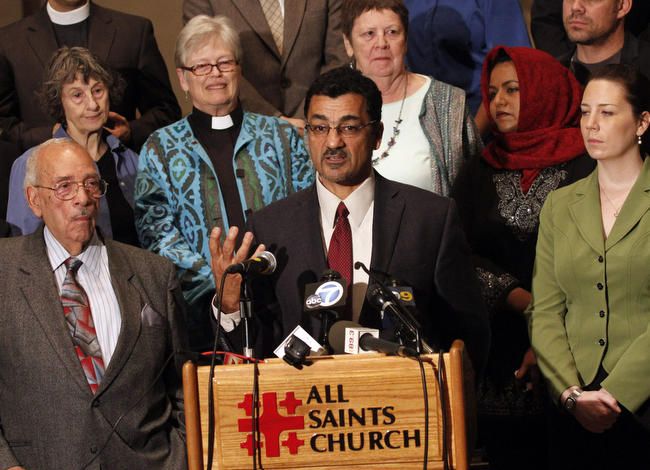 Religious leaders from all sects and denominations stood shoulder-to-shoulder at All Saints Church in Pasadena on Thursday to denounce a spate of hate mail the parish received for hosting a popular Muslim event at the church.
Church officials claim they received more than two dozen emails from individuals condemning All Saints Episcopal Church for hosting the 12th Annual Muslim Public Affairs Council Convention on Dec. 15.
Church officials produced three of the "close to 30" emails they received. They described many of the others as too "vituperative" to release to the public. At least one email accused the parish of "providing cover and legitimacy to an organization dedicated to overthrowing the Constitution, and substituting Sharia law." Another email warned parishoners to not "be gullible suckers."
During the Thursday press conference, convention organizers and church staff said the conference will go on as planned and denounced the emails as hateful.
"What we hear too often unfortunately, is that what we are doing is a waste of time," MPAC President Salam Al Mayarati said. "What we also hear is people trying to drag us back to the rivalries of the middle East, the bloody rivalries of the middle east."
All Saints Rector Ed Bacon characterized the emails as a tragic reminder of the political and cultural realities of contemporary America. "The fact is our life in America is transacted in a culture of fear, and transacted in a culture of hatred; and a politics of fear and a politics of hatred," Bacon said.
Bacon said he hoped to convert the negative attention from the emails into something positive for interfaith relations. "We are very happy to have this occasion to put on a display of our relations and stand in solidarity," Bacon said.
In one email, a South Carolina man said "Islam is indistinguishable from Nazism," "Islam caused the Dark Ages" and that "every host country that has invited Islam into it has either been destroyed, or is in the process of being destroyed."
Church officials said the attacks came after Institute on Religion and Democracy published a criticism of the convention on its website. "If MPAC's convention is like past ones, Islamists will again be given a platform to rally Muslims to their cause but this time, it won't be in a mosque or a hotel conference room. It'll be from a church pulpit," the Nov. 30 article by Ryan Mauro, the "national security analyst of RadicalIslam.org," who is a frequent guest on the Fox News Channel.
MPAC Senior Adviser Dr. Maher Hathout said groups like IRD often cite Hathout's work with the Muslim Brotherhood as a reason to doubt his good intentions. I "was working with the Muslim Brotherhood student movement 60 years ago against the British occupation and against the Nasser (Gamal Abdel Nasser former President of Egypt) dictatorship and I am very proud of that record," Hathout said Thursday. "Since that time I have no connection with any group or party. In the last 40 years in America, I never dealt with any organization outside the U.S."
The MPAC national convention is scheduled to run from 11 a.m. to 6 p.m. on Dec. 15.
MPAC and the church are working with the Department of Homeland Security and the Pasadena Police Department on increasing security for the event, Al Mayariti said.
Pasadena Star-News, 7 December 2012
Update:  In a piece for the Washington Post's Guest Voices blog ("Hate mail over Muslim conference provides opportunity for Christian witness") the Rev. Susan Brooks Thistlethwaite points out that the Institute on Religion and Democracy article that provoked this outpouring of hate was crossposted from David Horowitz's FrontPage Magazine.