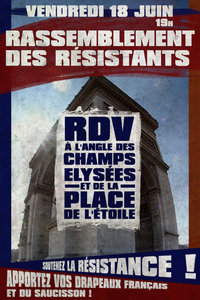 French organizers of a so-called "pork sausage and booze" party in Paris – designed as a deliberate provocation against Muslims – will move it from a heavily Muslim neighborhood to the Arc de Triomphe on Friday.
The group, "Identity Block," called the new venue "Plan B," after Paris police banned their bash this week on grounds of maintaining public order.
Advertised on Facebook and receiving some 7,000 RSVPs, the party is billed as a "resistance to the Islamization of France." It was initially planned to take place next to a mosque in the 18th district after Friday prayers, and on the same day as the English-Algerian World Cup soccer match.
The date holds meaning for the French: On June 18, 1940, Charles DeGaulle issued his famous call for the French to resist Nazi occupation in World War II.
"Identity Block" is an assortment of mostly French right-wing groups.
Today, the group sent out a press release, calling upon "all Parisians … and French" to meet at the Arc de Triomphe Friday to eat ham and drink grape juice, fly French flags, protest the police ban, and listen to speeches against "religious control of public space" in France – a reference to the majority Arab-Muslim Goutte d'Or neighborhood where the sausage and wine party was to be held.
Fadela Amara, a French federal minister of Algerian origin, calls the implicit protest against Muslims "hateful, racist, and xenophobic."
The idea to gather at the Arc de Triomphe is described by Identity Block as symbolic, since it was where 2,000 schoolboys defied a Nazi ban on protest and marched against the occupying forces some 70 years ago.
Marine Le Pen, deputy leader of the right-wing National Front (FN) party, calls the ban a "capitulation" by authorities to Muslims. The conservative American Thinker website ran a blog notice titled "Creeping Sharia," suggesting that concern by Paris city hall of a riot or casualties is a bending to Islamic law.
A more authentic comparison might be a neo-Nazi group holding a pork barbecue in front of a synagogue in a Hasidic Brooklyn neighborhood on Passover, then, when the city bans the event, calling the response "Creeping Torah."
Robert Marquand in the Christian Science Monitor, 17 June 2010